Epiphone AJ-100CE Acoustic
SKU: 043-05112-NA  
กีต้าร์โปร่งทรงแอดว๊านซ์จัมโบ้ (Advance Jumbo) เป็นกีต้าร์โปร่งที่เหมาะสำหรับทั้งผู้เริ่มต้นไปจนถึงมืออาชีพ เมื่อเวลาที่ผ่านไปมีศิลปินมากหน้าหลายตา อาทิเช่น Hank Williams ,The Beatles, Elvis Costello และ Jeff Tweedy จากวง Wilco ที่เลือกใช้กีต้าร์โปร่งทรงจัมโบ้ในการแต่งเพลงและในการแสดง กีต้าร์โปร่ง Epiphone AJ-100CE เป็นกีต้าร์โปร่งที่ยอดเยี่ยมพร้อมลำตัวกีต้าร์แบบเว้าที่สวยงามช่วยให้เล่นเฟร็ตลึกๆได้ง่ายขึ้น กีต้าร์โปร่งที่พร้อมสำหรับการพัฒนาทักษะการเล่นของคุณจากทักษะความชำนาญในการสร้างสรรค์กีต้าร์โปร่งมานานกว่าศตวรรษ
​
กีต้าร์โปร่งทรงแอดว๊านซ์จัมโบ้เป็นสิ่งที่จะขาดไปไม่ได้ในโลกของกีต้าร์โปร่ง บนเวทีที่มีวงเล่นแบบอคูศติกและมีการขยายเสียงเพียงเล็กน้อย กีต้าร์โปร่งทรงนี้จะช่วยสร้างจังหวะเสียงที่หนักแน่น กีต้าร์โปร่ง AJ-100Ce เหมือนกับกีต้าร์โปร่งรุ่นอื่นๆ ของเราที่ถูกผลิตออกมาเพื่อความทนทาน กีต้าร์โปร่ง AJ-100CE คือตำนานกีต้าร์ที่เซ็ตอัพได้ง่ายโดยโน้ตของสายที่ไม่ผิดเพี้ยนไม่ว่าคุณจะเล่นมันนานแค่ไหนก็ตาม มันก็พร้อมแล้วที่จะเคียงข้างคุณ
คุณสมบัติ
กีต้าร์โปร่งทรงแอดว๊านซ์จัมโบ้พร้อมชายเว้าเดี่ยวที่ลำตัวกีต้าร์
คอกีต้าร์แบบเรียวบางทำจากไม้มะฮอกกานี
ชุดปิ๊กอัพ NanoFlex
The advanced jumbo style acoustic guitar is the go-to acoustic for beginners as well as professionals. Over the years, a wide range of artists including Hank Williams, The Beatles, Elvis Costello, and Jeff Tweedy of Wilco have chosen a jumbo style acoustic as their main tool for writing and performing. The Epiphone AJ-100CE is a great acoustic guitar with a beautiful cutaway for great upper fret access that can keep up with you and its built with over a century of expertise and skill.
Advanced Jumbos are the bread and butter of the acoustic guitar world. On stage with an acoustic band and little amplification they make a strong rhythm anchor. The AJ-100CE, like all of our acoustic guitars, is made tough. The AJ-100CE is legendary for being easy to set up and for staying in tune so no matter how much playing time you have, it's ready to go.

PRODUCT FEATURES

Advanced jumbo with cutaway
Mahogany SlimTaper™ neck
NanoFlex™ pickup
Best Tonewoods
The AJ-100CE features a select spruce top. Spruce is a rich and complex tonewood that begins to breath and improve with age and with lots of playing time. So play the AJ-100CE a lot! The body is made from select mahogany and the bridge is glued at the precise point for stable tone and intonation. The classic style pickguard features the iconic Epiphone "E" and is set off by simple but elegant black binding. The AJ-100CE is available in three color finishes; ebony (EB), Natural (NA), and Vintage Sunburst (VS).
Revolutionary NanoFlex Pickup
Under the AJ100CE's compensated saddle is Shadow's proprietary NanoFlex™, low-impedance pickup. Unlike a piezo, this unique flexible sensing material features integrated active electronics that not only pick up string vibrations, but also top and body vibrations as well for a truly acoustic tone without the harshness of piezos.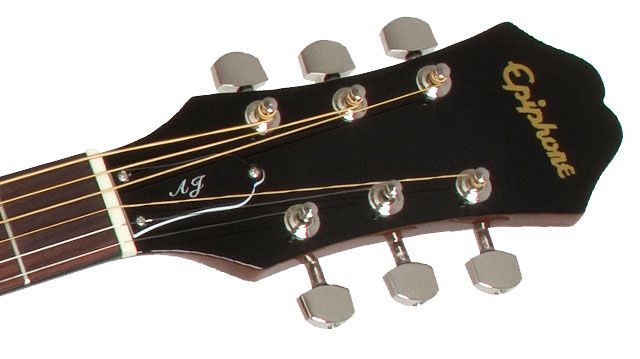 Mahogany Neck
The AJ-100CE Mahogany neck has a 25.5" scale and features a SlimTaper™ shape and dot inlays. Our iconic Epiphone Sloped Dovewing headstock completes the look with premium machine heads.
SPECIFICATIONS
Top: select spruce
Body: select mahogany
Neck: mahogany, glued-set
Neck Profile: SlimTaper™
Fingerboard Inlay: pearloid dot inlay
Scale: 25.5"
Nut: 1.68"
Pickup: NanoFlex™
Hardware: Nickel
Machine Heads: Premium tuners
Colors: ebony (EB), Natural (NA), Vintage Sunburst (VS)
Typical Weight (+/- 5%): 4.6 lbs
Strings: D'Addario® 12, 16, 25, 34, 41, 53