Epiphone Les Paul Custom 100 Anniversary (Limited Edition)
SKU: 043-05315-3CH  
ไม่เพียงแค่ ฮาร์ดแวร์เคลือบทอง 24K และ ปิ๊กอัพ Probucker ตัดคอยล์ได้ 


กีต้าร์ไฟฟ้ารุ่นที่ทำมาเป็นพิเศษเนื่องในโอกาสครบรอบ 100 ปี ของกีตาร์ทรง Les Pual กีต้าร์รุ่น Epiphone Limited Edition Les Paul Custom 100th Anniversary Outfit กีต้าร์ที่ไม่มีใครเหมือนและไม่เหมือนใครมี ด้วยการออกแบบเป็นพิเศษฮาร์ดแวร์เคลือบทอง 24K อินเลย์มุก โลโก้ Epiphone แบบวินเทจทำจากหินอัญมณี Zirconium พร้อมด้วยปิ๊กอัพกีต้าร์ไฟฟ้าฮัมบัคเกอร์ ProBucker ที่สามารถตัดคอยล์ได้ กล่องกีต้าร์รุ่นพิเศษครบรอบ 100 ปี สายสะพายกีต้าร์แบบวินเทจ ปิ๊กที่ระลึกและอื่นๆ อีกมากมาย
With 24K Gold Plated Hardware, ProBucker pickups with Coil Splitting, and more!
Epiphone, the House of Stathopoulo, celebrates Les Paul's 100th birthday with the Ltd. Ed. Les Paul Custom 100th Anniversary Outfit, a stunning one-of-a-kind Les Paul that combines Les' favorite Les Paul features with dazzling 24K Gold Plated hardware, Abalone and Pearloid inlay, a vintage Epiphone logo with a Zirconium Gemstone, plus acclaimed ProBucker™ pickups with coil-splitting, a 100th Anniversary hardshell case, vintage-style strap, Commemorative Picks and more!

The Roots of the Les Paul begin at Epiphone: Les Paul in the House of Stathopoulo.
Throughout 2015, Epiphone proudly celebrates the 100th birthday of Les Paul, the Wizard of Waukesha, the Thomas Edison of rock n' roll, and a life long fan and friend of the Epiphone and Gibson families. Les was a regular visitor to Epi Stathopoulo's factory in Manhattan where Les made the first prototypes of the Les Paul guitar, The Log. "I knew Epi Stathopoulo and the Epiphone people very well and loved their instruments," Les recalled in Les Paul, In His Own Words, "Working on Sundays, I took a length of 4x4 Pine, put an Epiphone neck on it, wound a couple of homemade pickups, and mounted them on the wood. Then I added a bridge and Vibrola tailpiece, strung it up, and I had The Log. I was looking for volume, tone, and sustain that could be controlled, still chasing the idea that started with stretching a guitar string over a section of railroad rail."

Les continued to be an Epiphone fan for the rest of his life and the beautiful new Ltd. Ed. Les Paul Custom 100th Anniversary Outfit is a suitable and dazzling tribute to the most popular rock & roll guitar in the world and its equally revered inventor.

For over 50 years, Les Paul encouraged and cheered on Epiphone to keep Les Pauls on the cutting edge of electric guitars.

"I tell you they are damn fine instruments!" Les said of Epiphone Les Pauls. "A kid can get an Epiphone and have something worth something, not a hunk-of-junk like the other brands. He can learn well on one and have it and play it the rest of his life. Just that they need a good guitar like an Epiphone so they won't get discouraged…so they will practice and work hard and enjoy their music."
A Les Paul Custom Fit for a Wizard!
The new Epiphone Ltd. Ed. Les Paul Custom 100th Anniversary Outfit features a classic Mahogany body with the time-honored Les Paul profile in both a Cherry finish with a Mahogany veneer and a Natural finish with a AAA Flame Maple Veneer. Both finish options have 5-layer Cream and Black binding on the top and back. The Mahogany neck has a 1960s SlimTaperTM D-profile and is glued to the body with a Mortise and Tenon neck joint. The smooth fingerboard is bound and has a 12" radius with 22 medium jumbo frets, a 24.75" scale, and a 1 11/16 nut. The Mahogany neck features traditional Epiphone Block & Triangle inlays in Abalone and Pearloid.

The Les Paul Custom 100th Anniversary Outfit has many other beautiful features that set it apart from any other Les Paul ever made including a 24K Gold plated metal truss rod cover engraved with "Les Paul 100th Anniversary. Plus, the traditional "Sloped Dovewing" headstock has 5 layer Cream and Black binding and features the original Epiphone "vine" inlay in Pearloid, a classic 40s era Epiphone logo with a Zirconium Gemstone dotting the "I", and on the back of the headstock a "The Legacy of Les Paul: 1915 - 2015" commemorative decal.
Epiphone ProBucker™ Humbucker Power
The Epiphone Ltd. Ed. Les Paul Custom 100th Anniversary features Epiphone's critically acclaimed ProBucker™ pickups, a 4-wire design with coil-splitting inspired by Gibson's legendary BurstBuckers™. Since their introduction, Epiphone ProBucker™ pickups have beguiled pros, luthiers, collectors, and guitar magazine editors and their consensus is ProBuckers aren't "like" the real thing—they are the real thing!ProBucker™ pickups recreate the sound of the original hand-wound "PAF" humbuckers designed by Seth Lover at the Kalamazoo factory in the late '50s by featuring all the same ingredients as the originals including Alnico II magnets, Elektrisola magnet wire, 18% nickel silver unit bases and covers, and pole screws, slugs and bobbins manufactured to Gibson's original specifications. The result is a phenomenal pickup that, over time, will develop the subtle, one-of-a-kind characteristics that previously you could only get from vintage humbuckers. And best of all, those unique pickup characteristics will give your guitar a unique "voice." No two vintage Les Pauls sound alike and ProBuckers™ will give your Epiphone Les Paul Custom 100th Anniversary a one-of-a-kind sound that will only get better the more you play. So plan on playing this Les Paul Custom a lot!

The Ltd. Ed. Les Paul Custom 100th Anniversary Outfit comes with a ProBucker™-2 humbucker in the neck position that is slightly overwound for greater definition at higher volumes. The bridge pickup is a ProBucker™-3 humbucker, which is also slightly overwound to give your solos a wide tonal range. Each pickup features coil-splitting via a push/pull control at each pickup's volume knob.

The Cherry finished Les Paul Custom features Amber "Top Hat" controls with metal pointers while the Natural finish features Black Speed Knobs with metal pointers. All volume and tone controls have full-size 500K Ω potentiometers matched with Epiphone's rugged, all-metal, 3-way toggle pickup selector switch for long-lasting performance.
Legendary Epiphone Hardware
There is no other Les Paul on Earth like the Ltd. Ed. 100th Anniversary Custom which features 24 Karat Gold Plated hardware including a gold plated truss rod cover engraved with "Les Paul 100th Anniversary," a gold LockTone™ Tune-o-matic bridge and Stopbar tailpiece, a gold Epiphone heavy-duty non-rotating output jack, and gold Grover™ 18:1 machine heads with stepped "Imperial" buttons.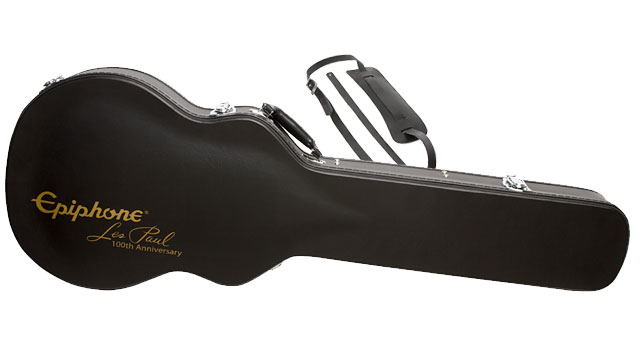 Every Epiphone Ltd. Ed. Les Paul Custom 100th Anniversary Outfit also comes with a Hardshell Case with a 100th Anniversary Commemorative Logo, a vintage-style strap, 3 Commemorative Picks, and a Certificate of Authenticity in a presentation binder.
SPECIFICATION
Body Material: Mahogany
Top Material: Cherry (Mahogany Veneer)
Natural (AAA Flame Maple Veneer)
Neck Material: Mahogany
Neck Shape: "1960's" SlimTaper™; D-profile
Neck Joint: Glued-In; Mortise and Tenon
Headstock: Traditional Epiphone "Sloped Dovewing"
Headstock Inlay: Traditional Epiphone "Vine" inlay; Pearloid
Vintage "Epiphone" logo with Zirconium Gemstone dotting the "I"
Back of Headstock: "The Legacy of Les Paul: 1915 - 2015" commemorative decal
Truss Rod Cover: 24K Gold plated metal with "Les Paul 100th Anniversary" engraved
Truss Rod: Adjustable
Scale Length: 24.75"
Fingerboard Material: Rosewood
Fingerboard Inlays: Traditional Epiphone "Block & Triangle"; Abalone and Pearloid
Fingerboard Radius: 12"
Frets: 22; medium-jumbo
Bridge Pickup: Epiphone ProBucker-3™
Neck Pickup: Epiphone ProBucker-2™
Controls: Bridge Volume with coil-splitting

Neck Volume with coil-splitting

Epiphone all-metal 3-way toggle
Knobs: Cherry = Amber "Top Hats" with metal pointers
Natural = Black "Speed Knobs" with metal pointers
Bridge/Tailpiece: LockTone™ Tune-o-matic/Stopbar
Nut Width: 1-11/16"
Hardware: 24K Gold
Binding: Body = 5-layer (Cream/Black); Top & Back
Headstock = 5-layer (Cream/Black)
Fingerboard = 1-layer (Cream)
Machine Heads: Grover™ 18:1 ratio; With stepped "Imperial" buttons
Output Jack: Epiphone Heavy-Duty; Non-rotating
Includes: Hardshell Case with 100th Anniversary commemorative logo, Vintage Strap, 3 Commemorative Picks, Certificate of Authenticity in presentation binder