Jackson JS Series Dinky Arch Top JS32-8 DKA HT
SKU: F291-0114-568
หลอมรวมกับประสบการณ์และดีเอ็นเอของ Jackson ซึ่งมีมายาวนานกว่า 30 ปี  กีต้าร์ไฟฟ้าแบบ 8 สาย JS Series Dinky™ Arch Top JS32-8 DKA HT ให้คุณสร้างสรรค์จินตนาการได้ยาวไกลกว่าจากเฉดสีและโทนเสียงที่กว้างและมากกว่า ในความคุ้มค่าที่คาดไม่ถึง
กีต้าร์ไฟฟ้า JS32-8 DKA HT มาพร้อมกับสเกลความยาวที่ 26.5 นิ้วเพื่อความชัดเจนของเสียงในย่านความถึ่ต่ำที่ชัดเจนขึ้น ลำตัวกีต้าร์ที่มีน้ำหนักเบาและก้องกังวานโดยทำจากไม้พ็อพล่าร์ (poplar) ซึ่งด้านหน้าลำตัวกีต้าร์ที่มีความโค้ง (arched top) คอกีต้าร์ที่เล่นได้คล่องตัวทำจากไม้เมเปิ้ลโดยมีการเสริมความแข็งแรงด้วยด้วยแกรไฟต์ มีเฟร็ตจำนวน 24 เฟร็ตและอินเลย์แบบฟันของปลาปิรันย่า (piranha tooth inlays) รัศมีความโค้งของฟิงเกอร์บอร์ดแบบไล่ระดับที่ 12 ถึง 16 นิ้ว (compound radius) ทำจากไม้ amaranth พื้นผิวของฟิงเกอร์บอร์ดซึ่งสร้างสรรค์การเล่นที่คล่องตัว ทั้งการเล่นในแบบคอร์ดในตำแหน่งใกล้นัท และการเล่นในแบบโซโล่ที่รวดเร็วและการดันสายโดยไม่ต้องกังวลว่าจะตกเฟร็ตในตำแหน่งใกล้ช่วงต่อคอกีต้าร์​
ปิ๊กอัพกีต้าร์ฮัมบัคเกอร์ที่ทรงพลังจำนวน 2 ตัว ที่ติดตั้งลงบนลำตัวกีต้าร์โดยตรงกับโทนเสียงที่ดุดัน กีต้าร์ไฟฟ้า JS32-8 DKA HT สามารถปรับแต่งเสียงได้จากสวิตซ์เลือกปิ๊กอัพแบบ 3 ทาง ตัวควบคุมระดับเสียงและโทนอย่างละ 1 ตัว สะพานสายแบบไม่มีคันโยกโดยร้อยสายจากทางด้านหลังลำตัวกีต้าร์ (HT8 bridge) ลูกบิดกีต้าร์แบบไดคาส และหัวกีต้าร์แบบ AT-1 พร้อมการวางเรียงลูกบิดกีต้าร์แบบ 4x4 (4 ตัวทางด้านบน, 4 ตัวทางด้านล่าง)

​กีต้าร์ไฟฟ้าแบบ 8 สายที่ดุร้าย JS32-8 DKA HT มาพร้อมกับสี Satin Black (สีดำ) ฮาร์ดแวร์สีดำทั้งหมด และการเข้าขอบ (binding) สีขาวที่คอกีต้าร์
Infused with more than 30 years of Jackson DNA, experience and expertise, the JS Series Dinky™ Arch Top JS32-8 DKA HT offers an extended range and increased sonic palette for the master composer at a price you can afford.
This slick axe features a 26.5" scale length for better low-end articulation, a lightweight and resonant poplar body with an arched top and a bolt-on maple neck with graphite reinforcement and scarf joint for rock-solid stability. Hosting 24 jumbo frets and piranha tooth inlays, the 12"-16" compound radius amaranth fingerboard creates the ideal playing surface for fat riffs and easy chording near the black plastic nut while gradually flattening in the upper registers for lightning-quick solos and wide bends without fear of fretting out.

Powered by direct mount dual Jackson high-output humbucking pickups, the JS32-8 DKA HT is also equipped with single volume and tone controls and three-way blade switching, string-through-body fixed Jackson HT8 bridge, Jackson 4x4 (4 over, 4 under) AT-1 headstock and sealed die-cast tuners.

Offering more for less, this beastly 8-string axe comes in Satin Black with all-black hardware and stylish white neck binding.
ONE-PIECE BOLT-ON MAPLE NECK WITH GRAPHITE REINFORCEMENT AND SCARF JOINT

A type of neck constructed with a scarf joint for an angled back headstock, which in turn increases the tension behind the nut eliminating the need for string trees and/or string retainer bars. The bolt-on neck joins the neck to the body of the guitar with screws or bolts, allowing for more control, attack and sustain.
GENERAL
MODEL NUMBER: 2910114568
SERIES: JS
COLOR: Satin Black
NUMBER OF STRINGS: 8
ORIENTATION Right-Hand

BODY
BODY FINISH: Satin
BODY SHAPE: Dinky™
BODY MATERIAL: Poplar

MISCELLANEOUS
STRINGS NPS,: .009-.074 Gauges
NECK
NECK CONSTRUCTION: 1-Piece Maple
NECK FINISH: Satin
NECK BINDING: White
SCALE LENGTH: 26.5" (673 mm)
FINGERBOARD RADIUS: 12"-16" Compound Radius (304.8 mm to 406.4 mm)
FINGERBOARD MATERIAL: Amaranth
NUMBER OF FRETS: 24
FRET SIZE: Jumbo
NUT WIDTH: 2.165" (55 mm)
POSITION INLAYS: Piranha Tooth (Small Sharkfin)
TRUSS ROD NUT: Truss Rod Adjustment at Nut
HEADSTOCK: Jackson® 4x4 AT-1 (4 Over/4 Under)
NECK PLATE: 4-Bolt (recessed screws)
DIRECT MOUNT JACKSON HIGH-OUTPUT HUMBUCKING PICKUPS

Painstakingly voiced for full, rich tone while providing maximum overdrive and sustain, these high-output pickups are mounted to the body without pickup bezels for increased resonance and vibration transfer, adding more punch and sustain to your sound.
HARDWARE
BRIDGE: Jackson® HT8 String-Through-Body Hardtail HARDWARE FINISH: Black
TUNING MACHINES: Jackson® Sealed Die-Cast
PICKGUARD: None
PICKUP COVERS: Black
CONTROL KNOBS: Dome-Style
SWITCH TIP: Black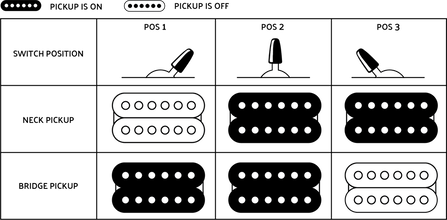 ELECTRONICS
BRIDGE PICKUP: Jackson® High-Output 8-String Humbucking
NECK PICKUP: Jackson® High-Output 8-String Humbucking CONTROLS: Master Volume, Master Tone
PICKUP SWITCHING: 3-Position Blade: Position 1. Bridge Pickup, Position 2. Bridge and Neck Pickups, Position 3. Neck Pickup
CONFIGURATION: HH