Jackson JS Series King V JS32
SKU: 2910124520
กีต้าร์ไฟฟ้า JS Series King V™ JS32 กับรูปทรงที่งดงาม เต็มเปี่ยมไปด้วยประสิทธิภาพ ในความคุ้มค่าเกินตัว

กีต้าร์ไฟฟ้าที่น่าเกรงขาม King V มาพร้อมกับลำตัวกีต้าร์ที่ทำจากไม้พอพล่าร์ (poplar) คอกีต้าร์ที่เล่นได้คล่องตัวทำจากไม้เมเปิ้ลโดยมีการเสริมความแข็งแรงด้วยด้วยแกรไฟต์ รัศมีความโค้งของฟิงเกอร์บอร์ดแบบไล่ระดับที่ 12 ถึง 16 นิ้ว  ฟิงเกอร์บอร์ดทำจากไม้ amaranth พร้อมด้วย 24 เฟร็ตขนาดจัมโบ้และอินเลย์แบบหูฉลาม (Sharkfin) โดยฟิงเกอร์บอร์ดจะแบนลงเมื่อเข้าใกล้ช่วงต่อคอ และจะโค้งขึ้นเมื่อเข้าใกล้นัทกีต้าร์ ช่วยให้เล่นสบายและเป็นธรรมชาติสำหรับการเล่นคอร์ดเมื่อเล่นใกล้นัท และสมบูรณ์แบบเมื่อต้องการเล่นโซโล่หรือด้นสายเมื่อเล่นใกล้ช่วงต่อคอกีต้าร์

​ปิ๊กอัพกีต้าร์ฮัมบัคเกอร์ที่ติดลงโดยตรงบนลำตัวกีต้าร์กับเสียงทรงพลังจำนวน 2 ตัว โดยทำจากแม่เหล็กเซรามิกที่ให้เสียงที่เคลียร์และชัดเจน ที่ให้ความดุดัน สามารถปรับแต่งเสียงได้จากสวิตซ์เลือกปิ๊กอัพแบบ 3 ทาง ตัวควบคุมระดับเสียงและโทนอย่างละ 1 ตัว สะพานสายแบบ Jackson-branded Floyd Rose® double-locking tremolo bridge ลูกบิดกีต้าร์แบบไดคาส (die-cast) และหมุดสำหรับสายสะพาย

กีต้าร์ไฟฟ้าที่ทั้งรวดเร็วและรุ่นแรง  King V JS32 มาพร้อมกับฮาร์ดแวร์สีดำทั้งหมด มีให้เลือกในสี Black with White Bevels (สีดำขอบขาว), Gloss Black (สีดำ), Matte Army Drab (สีเขียว) หรือ White with Black Bevels (สีขาวขอบดำ)
The JS Series King V™ JS32 offers one of our most regal shapes and outstanding performers with an affordable price tag.
This formidable King V has a poplar body, bolt-on maple speed neck with graphite reinforcement and scarf joint for rock-solid stability. Its 12"-16" compound radius bound amaranth fingerboard features 24 jumbo frets and pearloid sharkfin inlays.

Other features include dual Jackson high-output humbucking pickups with ceramic magnets and three-way toggle switching, Jackson-branded Floyd Rose® double-locking tremolo bridge, standard strap buttons and sealed die-cast tuners.

Swift and deadly, the King V JS32 features all-black hardware and is available in Black with White Bevels, Gloss Black, Matte Army Drab or White with Black Bevels.
12"-16" COMPOUND RADIUS FINGERBOARD

Jackson pioneered the use of the innovative 12"-16" compound radius design, in which the fingerboard gradually flattens toward the heel from its more rounded profile at the nut. This makes for comfortable and natural-feeling chording and riffing near the nut, with optimal shred articulation and bending nearer the heel.
GENERAL
MODEL NUMBER: 2910124520
SERIES: JS
COLOR: Matte Army Drab
NUMBER OF STRINGS: 6
ORIENTATION Right-Hand

BODY
BODY FINISH: Satin
BODY SHAPE: King V™
BODY MATERIAL: Poplar

MISCELLANEOUS
STRINGS NPS,: .009-.042 Gauges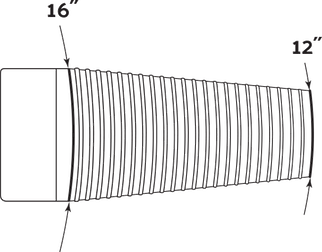 NECK
NECK CONSTRUCTION: 1-Piece Maple
NECK FINISH: Satin
NECK BINDING: White
SCALE LENGTH: 25.5" (648 mm)
FINGERBOARD RADIUS: 12"-16" Compound Radius (304.8 mm to 406.4 mm)
FINGERBOARD MATERIAL: Amaranth
NUMBER OF FRETS: 24
FRET SIZE: Jumbo
NUT WIDTH: 1.6875" (42.86 mm)
POSITION INLAYS: Pearloid Sharkfin
TRUSS ROD NUT: Truss Rod Adjustment at Nut
HEADSTOCK: Jackson® Pointed 6-In-Line
NECK PLATE: Jackson®
JACKSON-BRANDED FLOYD ROSE® DOUBLE-LOCKING TREMOLO

Our Jackson-branded Floyd Rose tremolo system is an affordable version of this popular and original double-locking design. It allows you to lock your guitar in tune at the nut and at the bridge, resulting in greater tuning stability and sustain for your most aggressive dime bombs.
HARDWARE
BRIDGE: Floyd Rose® Licensed Jackson® Double-Locking Tremolo
HARDWARE FINISH: Black
TUNING MACHINES: Jackson® Sealed Die-Cast
PICKGUARD: None
PICKUP COVERS: Black
CONTROL KNOBS: Dome-Style
SWITCH TIP: Black
ELECTRONICS
BRIDGE PICKUP: Jackson® High-Output Humbucking
NECK PICKUP: Jackson® High-Output Humbucking CONTROLS: Master Volume, Master Tone
PICKUP SWITCHING: 3-Position Toggle: Position 1. Bridge Pickup, Position 2. Bridge and Neck Pickups, Position 3. Neck Pickup
CONFIGURATION: HH