Jackson X Series Signature Adrian Smith SDXQ
SKU: F291-3052-587
Iron Maiden หนึ่งในวงเมทัลที่ทรงอิทธิพลและประสบความสำเร็จมากที่สุด ต้องขอบคุณโทนเสียงที่ไพเราะและละเมียดละไมจากมือกีต้าร์ 
Adrian Smith ไม่ว่าจะเป็นการแสดงสดที่ตระการตาหรือบทเพลงที่ไร้ขีดจำกัดของกาลเวลา วง Iron Maiden ยังคงทัวร์ไปรอบโลกและร็อกไทในทุกๆ สเตเดี้ยมที่ไฟฟ้าสามารถเข้าถึง
Jackson รู้สึกเป็นเกรียติกับพรสวรรค์ในการเล่นกีต้าร์และได้สร้างสรรค์กีต้าร์ไฟฟ้า ​
X Series Signature Adrian Smith SDXQ ขึ้นมา โดยมีลำตัวกีต้าร์ทำจากไม้เบสวู้ด (Basswood) ในรูปทรง San Dimas® พร้อมด้วยความงดงามจากไม้เมเปิ้ลลายก้อนเมฆ (quilt) ทางด้านหน้าลำตัวกีต้าร์ คอกีต้าร์ทำจากไม้เมเปิ้ล 2 ชิ้น โดยมีการเสริมความแข็งแรงด้วยแกรไฟต์ ฟิงเกอร์บอร์ดทำจากไม้เมเปิ้ลที่มีรัศมีความโค้งของฟิงเกอร์บอร์ดแบบไล่ระดับที่ 12 ถึง 16 นิ้ว เฟรตจำนวน 22 เฟรต อินเลย์เป็นจุดสีดำ และห้วกีต้าร์รูปทรงแบบ Fender® Strat®

กีต้าร์ SDXQ มีปิ๊กอัพกีต้าร์ในรูปบบ HSS โดยมีปิ๊กอัพฮัมบัคเกอร์ Jackson ที่ทรงพลังในตำแหน่งสะพานสาย และปิ๊กอัพซิงเกิ้ลคอยล์ในตำแหน่งกลางและคอ สามารถปรับแต่งเสียงได้จากสวิตซ์เลือกปิ๊กอัพแบบ 5 ทาง ตัวควบคุมระดับเสียงและโทนอย่างละ 1 ตัว สะพานสายแบบฟรอยโรส non-recessed Floyd Rose® Special double-locking 2-point tremolo bridge โดยไม่ว่าคุณจะเล่นรุ่นแรงขนาดไหน มั่นใจได้ในความเที่ยงตรงและไม่ต้องกลัวว่าโทนเสียงจะผิดเพี้ยน
Iron Maiden is one of the most successful and influential metal bands ever, thanks to the molten yet melodic guitar work of Adrian Smith. With timeless songwriting and thrilling live performances, Maiden continues to record, tour internationally and rock stadiums everywhere with electricity.
Jackson honors Smith's metal prowess with the X Series Signature Adrian Smith SDXQ, featuring a basswood San Dimas® body with elegant quilt maple top, two-piece bolt-on maple neck with graphite reinforcement and a 12"-16" compound radius maple fingerboard with 22 jumbo frets, black dot inlays and licensed Fender® Strat® headstock.

The SDXQ also offers an HSS pickup configuration and is powered by a Jackson high-output humbucking bridge pickup, Jackson single-coil middle pickup and single-coil neck pickup with five-way blade switching and master volume and tone controls. A non-recessed Floyd Rose® Special double-locking 2-point tremolo bridge will withstand all the abuse you throw at it, providing rock-solid stability and stable tuning.

Available in a Transparent Green finish with a white pickguard and black hardware, this beauty looks as sharp as it sounds.
HSS CONFIGURATION: JACKSON HIGH-OUTPUT HUMBUCKING BRIDGE PICKUP, JACKSON SINGLE-COIL MIDDLE PICKUP
An atypical configuration for Jackson, this guitar features a humbucker in the bridge position and single-coil pickups in the neck and mid positions. The Jackson high-output humbucking pickup was painstakingly voiced for full, rich tone while providing maximum overdrive and sustain. The Jackson single-coil middle and neck pickups deliver that tried-and-tested Strat sound.
GENERAL
MODEL NUMBER: 2913052587
SERIES: Artist Signature
COLOR: Transparent Green Burst
ORIENTATION: Right-Hand


BODY
BODY FINISH: Gloss
BODY SHAPE: San Dimas®
BODY MATERIAL: Basswood
BODY TOP: Quilt Maple

MISCELLANEOUS
STRINGS: Nickel Plated Steel .009-.042 Gauges
NECK
NECK CONSTRUCTION: 2-Piece Maple with Graphite Reinforcement
NECK FINISH: Satin
NECK BINDING: None
SCALE LENGTH: 25.5" (648 mm)
FINGERBOARD RADIUS: 12"-16" Compound Radius (304.8 mm to 406.4 mm)
FINGERBOARD MATERIAL: Maple
NUMBER OF FRETS: 22
FRET SIZE: Jumbo
NUT WIDTH: 1.6875" (42.86 mm)
POSITION INLAYS:Black Dots
NECK PLATE: Jackson®
12"-16" COMPOUND RADIUS FINGERBOARD
Jackson pioneered the use of the innovative 12"-16" compound radius design, in which the fingerboard gradually flattens toward the heel from its more rounded profile at the nut. This makes for comfortable and natural-feeling chording and riffing near the nut, with optimal shred articulation and bending nearer the heel.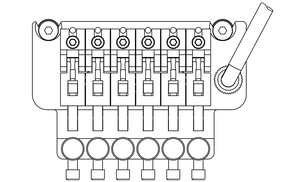 HARDWARE
BRIDGE: Floyd Rose® Special Double Locking 2-Point Tremolo
HARDWARE FINISH: Black
TUNING MACHINES: Jackson® Sealed Die-Cast
PICKGUARD: 1-Ply White
CONTROL KNOBS: Black Dome Style
ELECTRONICS
BRIDGE PICKUP: Jackson® Humbucking
MIDDLE PICKUP: Jackson® Single-Coil
NECK PICKUP: Jackson® Single-Coil
CONTROLS: Master Volume, Master Tone
PICKUP SWITCHING: 5-Position Blade: Position 1. Bridge Pickup, Position 2. Bridge and Middle Pickup, Position 3. Middle Pickup, Position 4. Middle and Neck Pickup, Position 5. Neck Pickup
CONFIGURATION: HSS