Music Man Mariposa
SKU: 007-10065-S9
กีต้าร์ไฟฟ้า Mariposa มาพร้อมกับลำตัวกีต้าร์ที่ทำจากไม้ okoume ที่มีน้ำหนักเบาในรูปทรงที่มีความสมดุล คอกีต้าร์ทำจากไม้เมเปิ้ลที่ผ่านการอบ (roasted)  ฟิงเกอร์บอร์ดทำจากไม้อีโบนี่ (Ebony) ที่มีอินเลย์มุกแบบสี่เหลี่ยม ปิ๊กอัพกีต้าร์ฮัมบัคเกอร์แบบคัสต้อม EBMM จำนวน 2 ตัว พร้อมด้วยปุ่มวอลลุ่มแยกกันสำหรับแต่ละปิ๊กอัพแต่ละตัว สวิทช์ซีเล็คเตอร์เลือกปิ๊กอัพแบบ 3 ทางที่สามารถสร้างหลากหลายทางในการผสมผสานโทนเสียงในยามที่ต้องการ ปิ๊กการ์ดที่ถูกแกะสลักโดยเลเซอร์เพื่อการตกแต่งที่งดงาม โดยปิ๊กการ์ดแต่ละแบบจะแตกต่างกันในแต่ละสีกีต้าร์
The Mariposa features an offset lightweight okoume body, a roasted maple neck, and an ebony fingerboard that showcases pearlescent style block inlays. Electronics include two custom wound EBMM humbucking pickups with separate volume control for each pickup, controlled by a 3-way pickup selector switch that allows for variable humbucking combinations when needed. The pickguard is laser etched with an ornate design coordinated to compliment specific finish options.
LIGHTWEIGHT OKOUME BODY
WHITE PEARLESCENT BLOCK INLAYS AND MATCHING HEADSTOCK

CUSTOM ERNIE BALL MUSIC MAN HUMBUCKING PICKUPS
INSPIRED COLLABORATION
FORM & FUNCTION
Designed with world-renowned Mars Volta and At the Drive-In composer & guitarist Omar Rodríguez-López.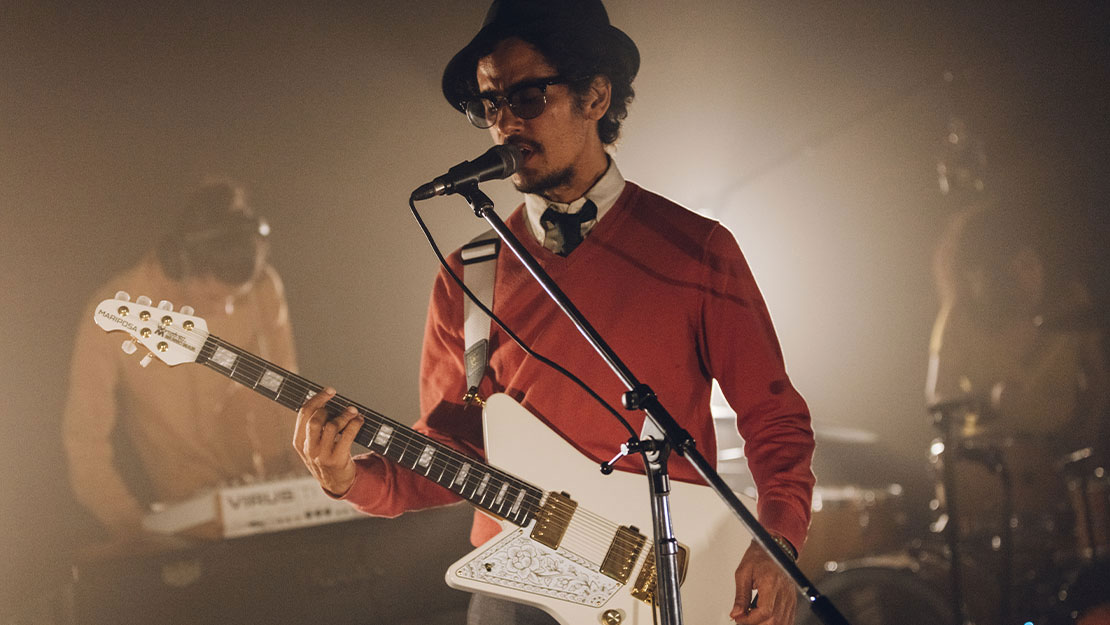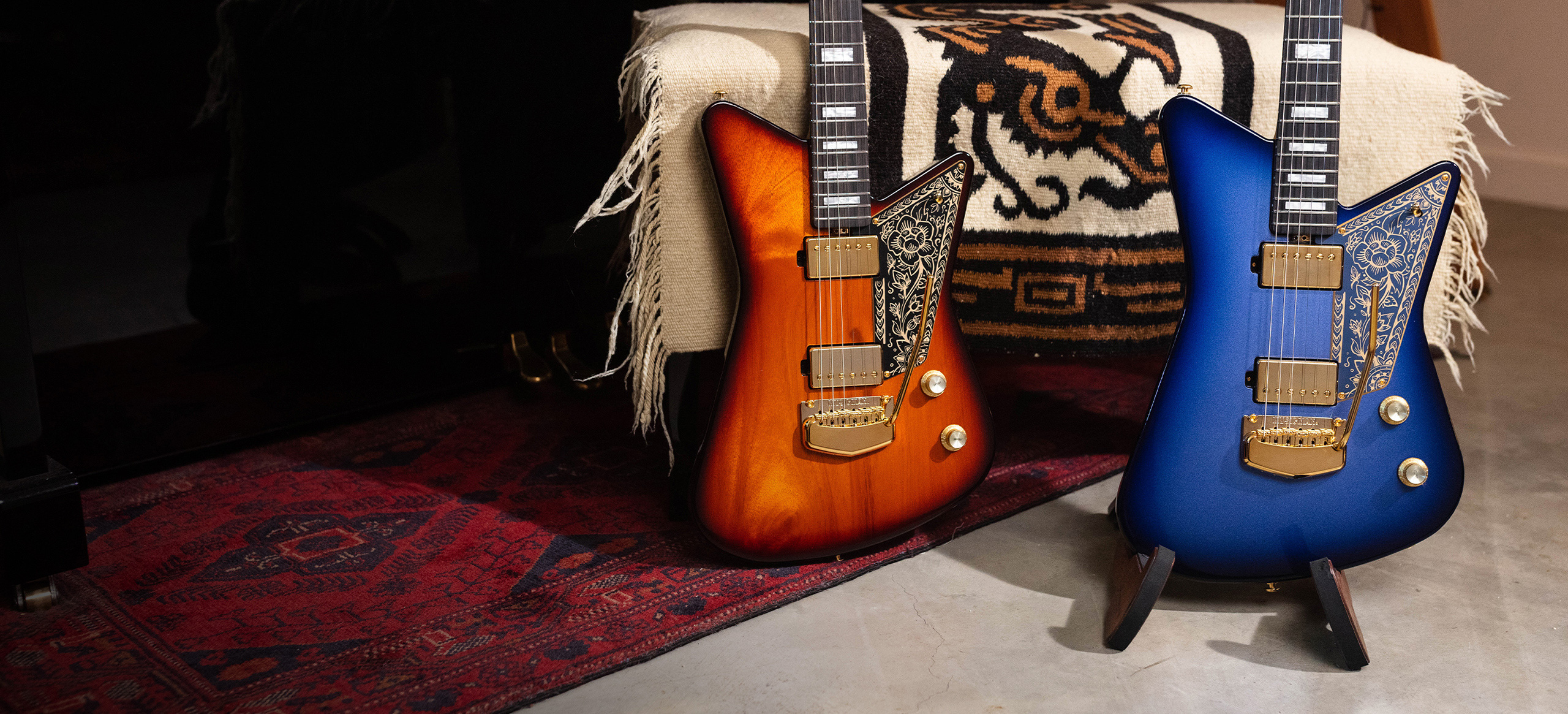 FOUR STRIKING FINISHES
DELUXE OR STANDARD
The Mariposa Deluxe comes with gold hardware and gold hat knobs in Imperial White and Imperial Black finishes. The standard Mariposa comes with chrome hardware and chrome knobs in Pueblo Pink and Dorado Green finishes.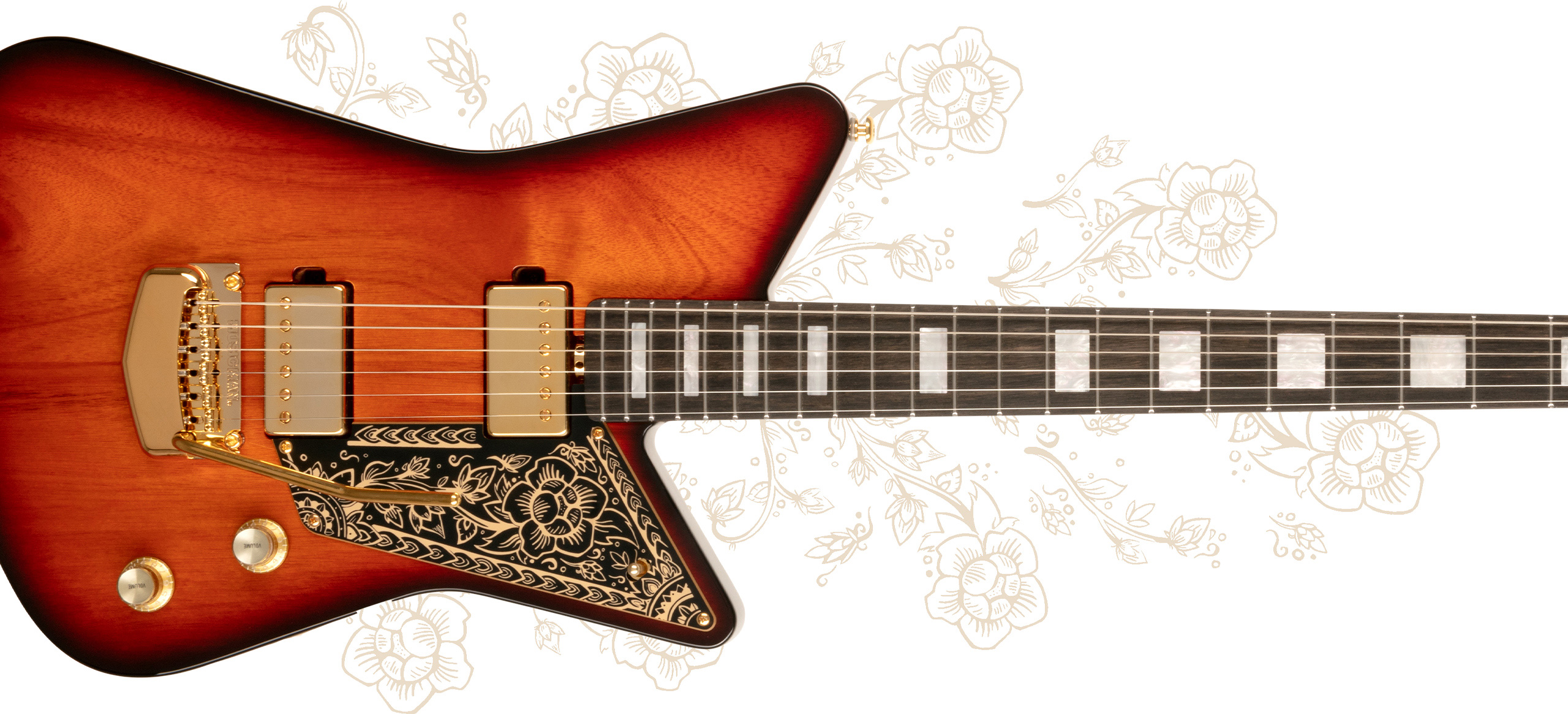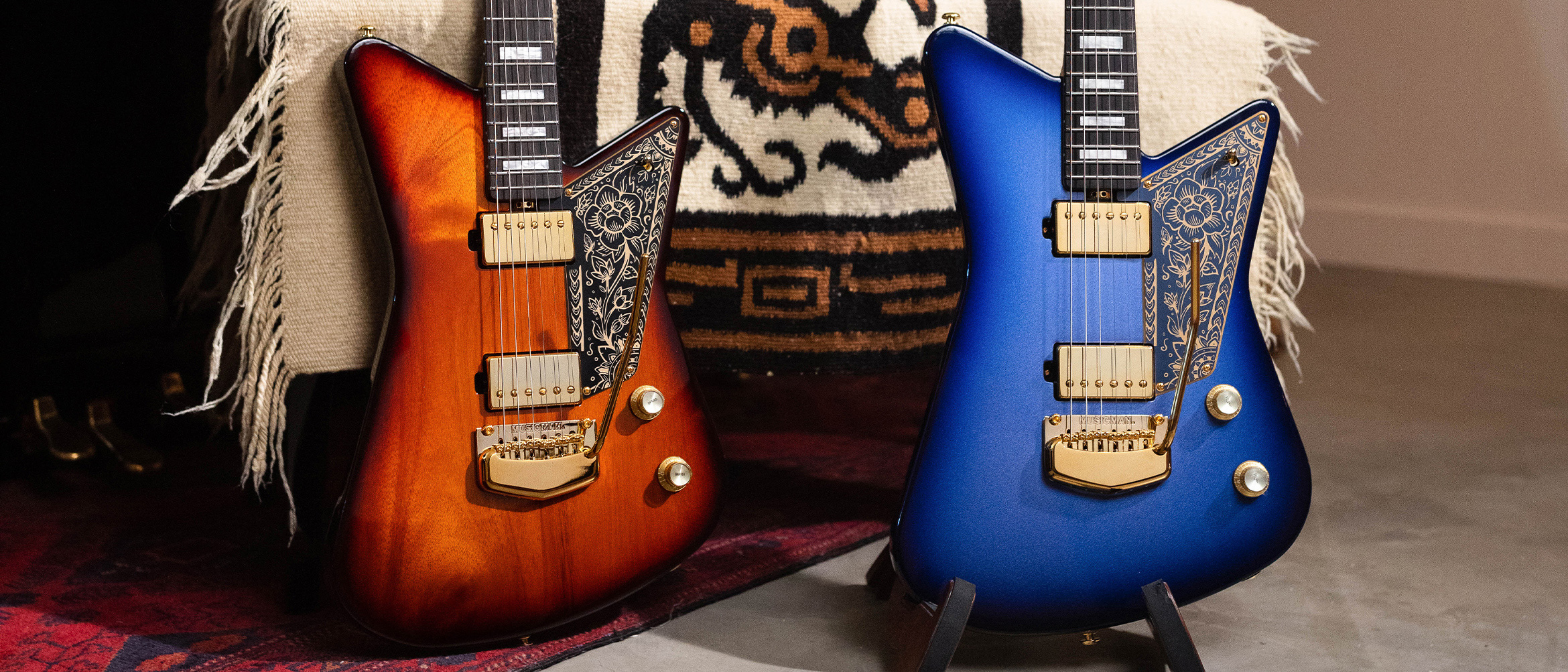 CHAOS MEETS BEAUTY
ORNATE PICKGUARD
Custom pickguards are laser-etched with an original ornate floral design coordinated to complement specific finish options.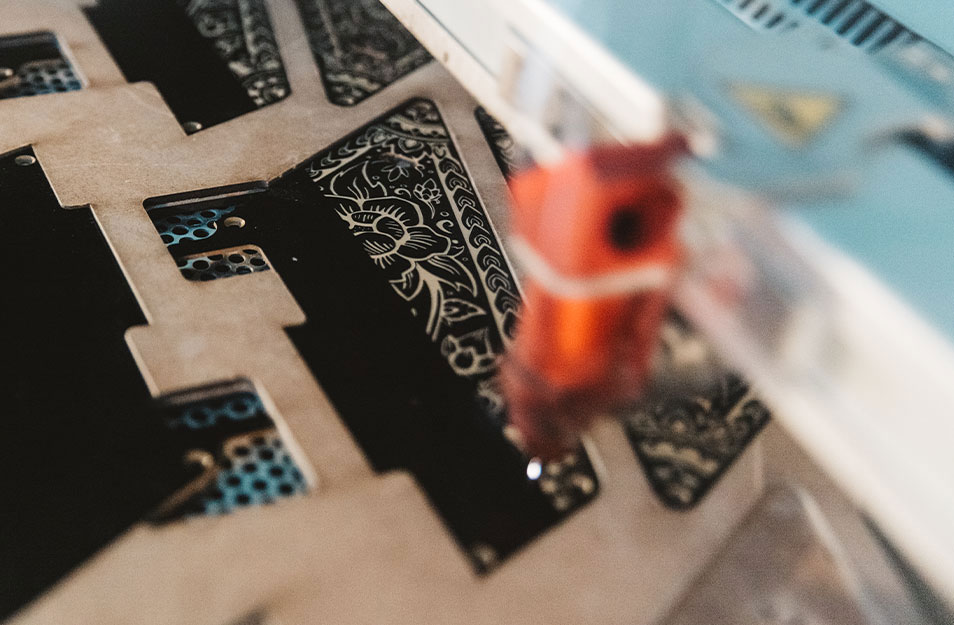 CUSTOM ELECTRONICS
Ernie Ball Music Man designed pickups accentuate Omar's love of heavy distortion while retaining all the subtleties of a classic style humbucking pickup.
CUSTOM DESIGN
Offset angular okoume body shape provides a beautiful unique appearance while retaining maximum balance and playing comfort.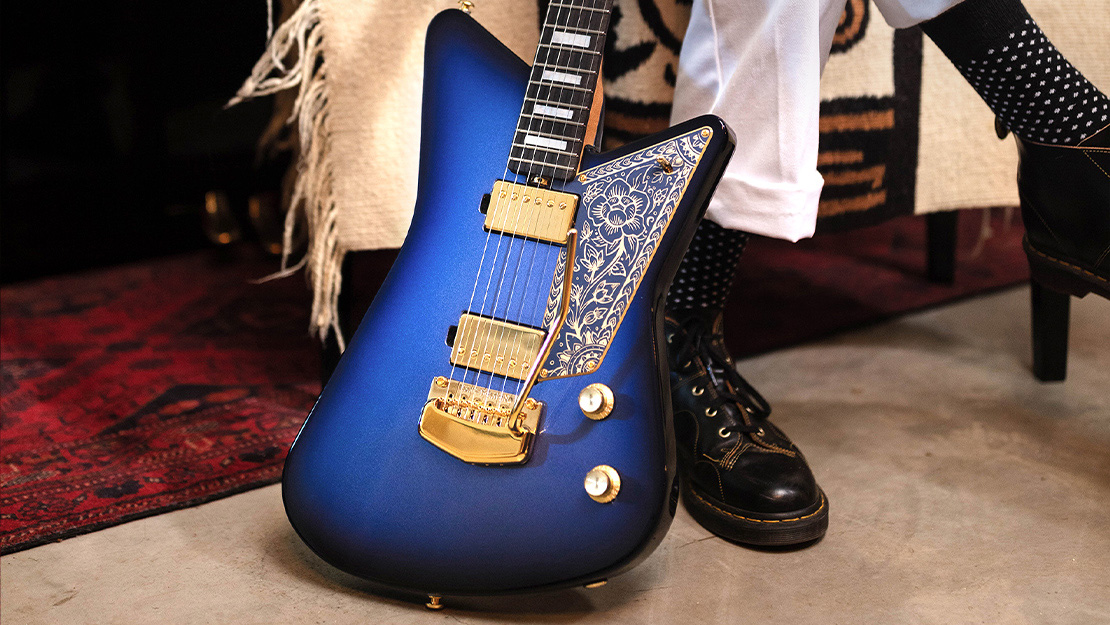 TETHERED TONE CIRCUIT
The passive interaction between the dual volume pots creates a natural variation in the high end when set at different levels.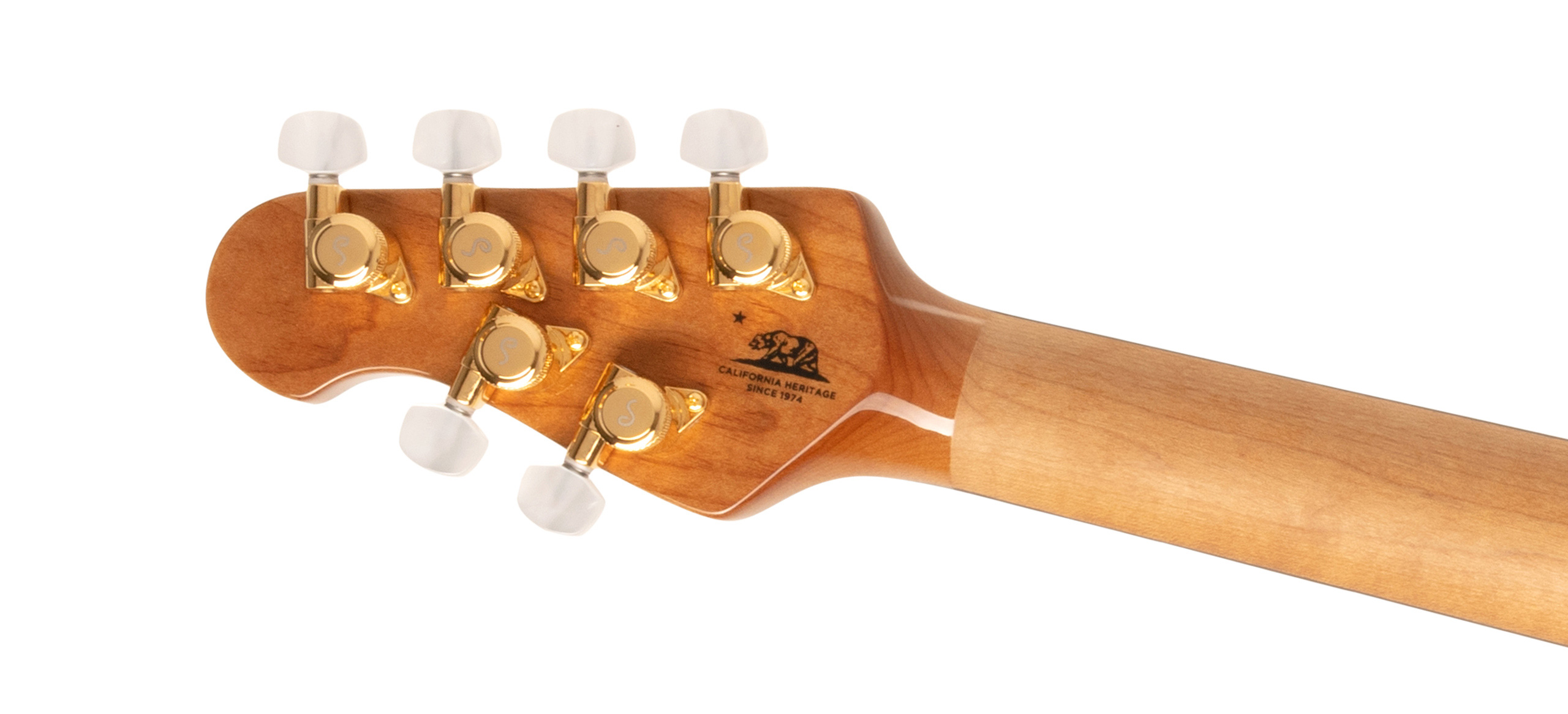 SPECIFICATIONS
| | |
| --- | --- |
| Model | Mariposa |
| Size | 11-7/8" wide, 1-5/8" thick, 37-1/2" long (30.2 cm wide, 4.1 cm thick, 95.3 cm long) |
| Body Wood | Okoume |
| Body Finish | High gloss polyester |
| Body Colors | Imperial Black, Imperial White, Pueblo Pink, Dorado Green |
| Bridge | Music Man® Modern tremolo with chevron cover and vintage bent steel saddles |
| Pickguard | Black, White, Torrid Maroon, Turbulent Green |
| Scale Length | 25-1/2" (64.8 cm) |
| Neck Radius | 10" (25.4 cm) |
| Headstock Size | 6-3/8" (16.2 cm) long |
| Frets | 22 - High profile, medium width |
| Neck Width | 1-5/8" (41.3 mm) at nut, 2-1/4" (56.9 mm) at last fret |
| Neck Wood | Select roasted maple neck |
| Fingerboard | Ebony |
| Fret Markers | Atlante Blocks |
| Neck Finish | Gunstock oil and hand-rubbed special wax blend |
| Neck Colors | Natural |
| Tuning Machines | Schaller M6-IND locking (Gold / Chrome) |
| Truss Rod | Adjustable - no component or string removal |
| Neck Attachment | 5 bolt, sculpted neck joint |
| Electronic Shielding | Graphite acrylic resin coated body cavity and aluminum control cover |
| Controls | 500kohm volume for each pickup |
| Switching | 3-way toggle pickup selector |
| Pickups | HH - 2 Music Man® custom wound humbucking with gold / chrome covers |
| Left Handed | SHOP LEFTIES |
| Strings | 10p-13p-17p-26-36-46 (RPS 10 Slinkys #2240) |