Korg AW-OTG
SKU: 002-05078  
KORG's first-ever POLYPHONIC clip-on tuner.
Revolutionary OLED display technology provides the clearest, fastest and most precise tuning yet!
The AW-OTG-POLY/AW-OTB-POLY represents the perfect combination of exceptional precision and stunning visibility that guitarists and bassists have been longing for. Each tuner comes equipped with cutting-edge OLED screen technology, allowing the display to be clear, smooth and perfectly visible from any angle. Additionally, its polyphonic tuner function allows you to play all strings at once and know at first glance which strings are out of tune. The AW-OTG-POLY/AW-OTB-POLY tuners offer a brand new tuning experience!
AW-OT Series - Introduction Movie
Cutting-edge OLED display technology provides an unprecedented degree of visibility.
The guitar-specific AW-OTG features intuitive chord finder function.
Bass-specific AW-OTB has been optimized to tune lower notes with more speed & accuracy and includes a tempo finder function.
Ultra-high precision tuning with accuracy as great at ±0.1 cents. Optional STROBE feature further improves accuracy.
Alternative tuning animations included to make tuning fun!
Astoundingly long battery life using only one AAA battery.
Firm and adjustable clip for maximum stability.
Calibration, memory backup and auto-power-off functions.
CUTTING EDGE OLED DISPLAY TECHNOLOGY PROVIDES AN UNPRECEDENTED DEGREE OF VISIBILITY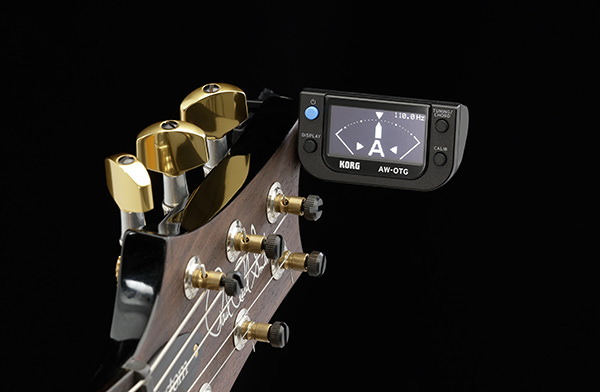 Revered for its gorgeous display, the latest OLED technology is widely used in the tech industry on the latest televisions and smartphones. Seeing an opportunity to elevate the tuner category, KORG has decided to incorporate this state-of-the-art technology into its latest tuner family. Clear, bright and easily seen from any angle, the OLED display will make even the slightest movement in pitch perfectly visible.
THE GUITAR-SPECIFIC AW-OTG FEATURES INTUITIVE CHORD FINDER FUNCTION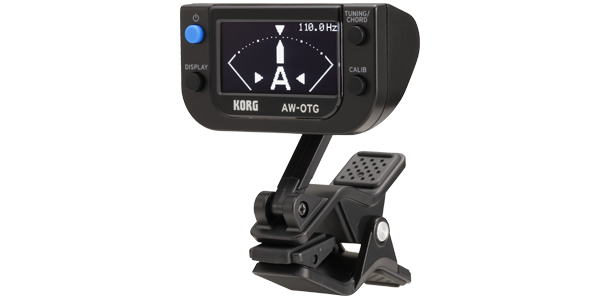 The guitar dedicated AW-OTG incorporates everything you would normally expect from a normal tuner, but also includes a chord finder function that's incredibly useful for individual practice. This function will automatically display the chord being played, allowing you to visually follow and recognize any chord progression in real time.
BASS-SPECIFIC AW-OTB HAS BEEN OPTIMIZED TO TUNE LOWER NOTES WITH MORE SPEED & ACCURACY AND INCLUDES A TEMPO FINDER FUNCTION.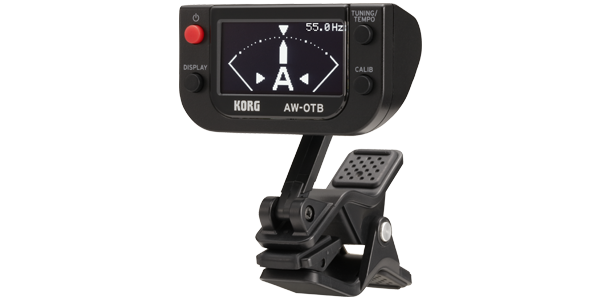 The bass-dedicated AW-OTB incorporates several functions that will delight bass players. For the first time ever, this tuner incorporates a tempo finder function, which shows the tempo at which the bass line is being played. This will be a welcomed addition for performing bass players who need to lock into the tempo. Moreover, the AW-OTB incorporates a special circuit specifically designed to accurately recognize frequencies below 100 Hz allowing extended ranged basses with 5 or more strings to be tuned quickly and accurately.
ULTRA-HIGH PRECISION TUNING WITH ACCURACY AS GREAT AT ±0.1 CENTS. OPTIONAL STROBE FEATURE FURTHER IMPROVES ACCURACY.
The strobe mode incorporated in the AW-OT series allows for ultra-high-precision tuning with accuracy up to ±0.1 cent. Whether you're performing for a recording that demands perfect tuning at all times, or on stage playing live, you'll be able to zero-in on minute pitch discrepancies, making these units an ideal choice for professional needs.
ALTERNATIVE TUNING ANIMATIONS INCLUDED TO MAKE TUNING FUN!

Apart from the standard needle-type display, we have also included 11 original animations that allow you to intuitively detect differences in pitch. Ranging from the incredibly precise strobe mode, that allows you to detect even the slightest pitch discrepancies, to original animations that will change whenever the instrument is perfectly on-pitch, KORG has created a fun tuner with the latest and most precise technology.
ASTOUNDINGLY LONG BATTERY LIFE USING ONLY ONE AAA BATTERY.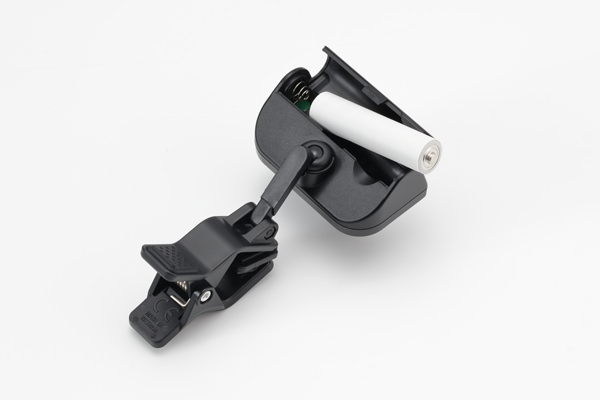 One of the main focuses of the AW-OT series is reducing energy consumption. While offering the sharpest and most visible display available, it allows for 18 hours of continuous use. A battery icon will be displayed when the batteries are running low.
FIRM AND ADJUSTABLE CLIP FOR MAXIMUM STABILITY.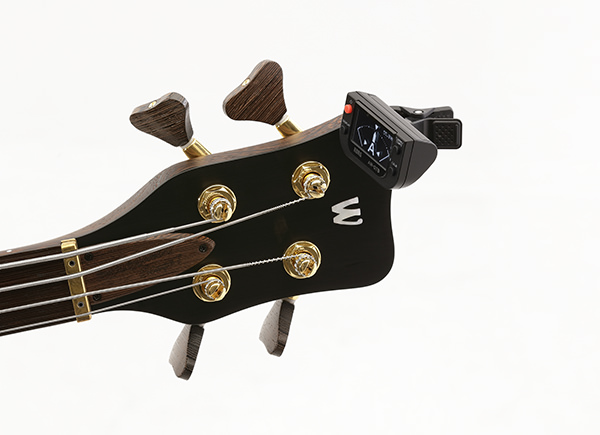 The contact surface ratio of the clip has been increased to ensure high holding power. It will fit securely on a variety of guitar or bass headstocks with ease. The double mechanism of a movable arm and a ball joint simultaneously provides both free angle adjustment and durability. You can position the tuner to suit your preference.
CALIBRATION, AUTO POWER-OFF, AND MEMORY BACKUP FUNCTIONS
The calibration function supports a variety of concert pitches while the memory backup function allows you to keep your preferences even after turning off the device. It is also equipped with an auto power-off function that will turn off your device after being idle for 3 minutes. This function prevents you from wasting batteries if you forget to turn off your device.
AW-OTG SPECIFICATIONS
Scale: 12 note equal temperament
Range (sine wave): A0 (27.5Hz)–C8 (4186 Hz)
Precision: ± 0.1 cent (Strobe mode)
Reference Pitch: A4 = 436–445 Hz (1 Hz steps)
Display Types: 11 types
Power Supply: AAA battery x 1 (Alkaline or NiMH batteries)
Battery Life: Approximately 18 hours (tuner continuously operating, A4 input, when using alkaline battery)
Dimensions (W x D x H): 51 mm x 64 mm x 71 mm/2.01" x 2.52" x 2.80"
Weight: 35 g/1.23 oz. (including battery)
Included Items: One AAA battery for checking operation
* All products names and specification names are trademarks or registered trademarks of their respective owners.
* Appearance and specifications of products are subject to change without notice.