A portable, pocket-sized tuning solution.
The CA-50: the standard tuner for orchestral instruments, now with even better visibility.
The CA-50 features high-precision tuning functionality and a slim and compact design. The new CA-50's display is now, even easier to read. Long considered the standard in chromatic tuners, the CA-50 offers simple and intuitive operation and a satisfying tuning experience for every instrumentalist.
An even more readable display, with a larger note name indication.
A wide detection range supports tuning for any instrument.
Calibration function is provided.
Marks provided to indicate pure major and minor third intervals.
Sound Out mode is ideal for ear training.
Dramatic increase in battery life.
Reduced stress when using the unit on a music stand.
Memory backup function and auto power-off function provided.
AN EVEN MORE READABLE DISPLAY, WITH A LARGER NOTE NAME INDICATION.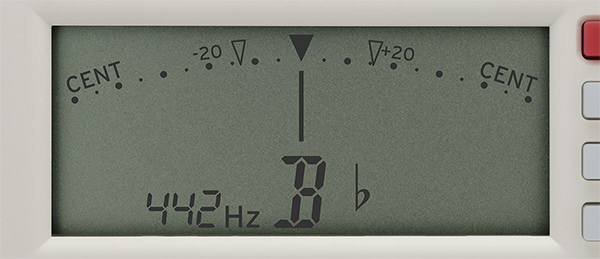 The LCD screen of the CA-50 shows a needle-type meter to quickly and accurately show the pitch, and provides a note name indication in the middle of the display. The note name indication is now larger and even easier to read. This ensures simple and smooth operation even for beginners.
A WIDE DETECTION RANGE SUPPORTS TUNING FOR ANY INSTRUMENT.
The CA-50 features a detection range of A0 (27.50 Hz) to C8 (4186.01 Hz). For wind instruments from piccolo to tuba, or string instruments from violin to contrabass, you can tune band or orchestral instruments of any pitch range. A high-sensitivity mic is built in, allowing the note name to be detected accurately even without a contact mic. By using the separately sold CM-200 contact mic, you can tune with confidence that nearby sounds will not affect the result.
CALIBRATION FUNCTION IS PROVIDED.
The calibration function supports a variety of concert pitches. It can be adjusted in 1 Hz units in the range 410–480 Hz, allowing flexible tuning that matches the song or key.
MARKS PROVIDED TO INDICATE PURE MAJOR AND MINOR THIRD INTERVALS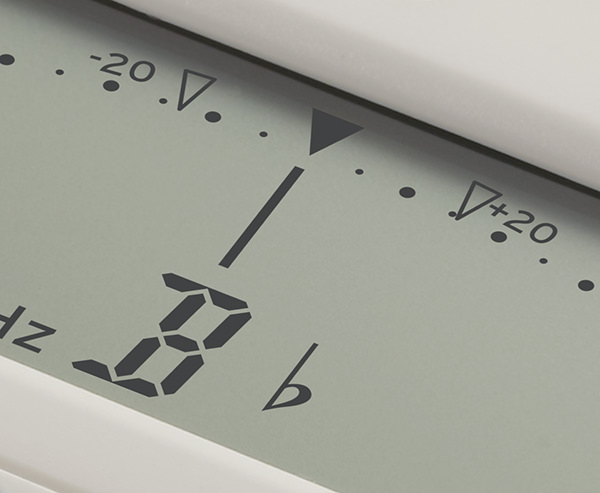 The meter scale of the CA-50 provides marks that indicate pure major and minor third intervals. By tuning to these marks* you can play beautiful harmonies when you're in an ensemble. This is convenient not only in a brass band or orchestra, but also for vocal or a cappella practice.
* When matching a pure major or minor third, the note to be adjusted will depend on the music that you're playing.
SOUND OUT MODE IS IDEAL FOR EAR TRAINING
The "Sound Out" mode lets you listen to a reference tone emitted by the internal speaker, allowing you to tune by ear. A reference tone in the range of C4 (261.63 Hz) to C5 (523.25 Hz) can be output. You can check the pitch using both eye and ear, allowing you to tune more accurately, and also providing an ideal method of training your sense of pitch.
DRAMATIC INCREASE IN BATTERY LIFE.
The CA-50 can be used for approximately 135 hours (when using zinc-carbon batteries). When the remaining battery capacity runs low, the display shows an indicator, letting you know that it's time to replace the batteries.
REDUCED STRESS WHEN USING THE UNIT ON A MUSIC STAND.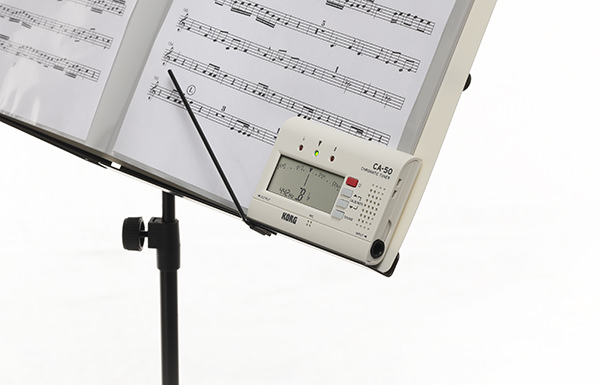 A new mechanism reduces the possibility that the unit will overturn, making it less likely that the tuner will slide off and fall when placed on a music stand. You'll be able to concentrate on your playing without fearing that the tuner might fall during the performance.
MEMORY BACKUP FUNCTION AND AUTO POWER-OFF FUNCTION PROVIDED.
The memory backup function remembers the calibration and sound out mode settings even when the power is turned off. (Settings are initialized when you replace the batteries.) The auto power off function automatically turns off the power when 20 minutes have passed without sound being input.
STYLISH BODY DESIGN WITH EXCELLENT FUNCTIONALITY.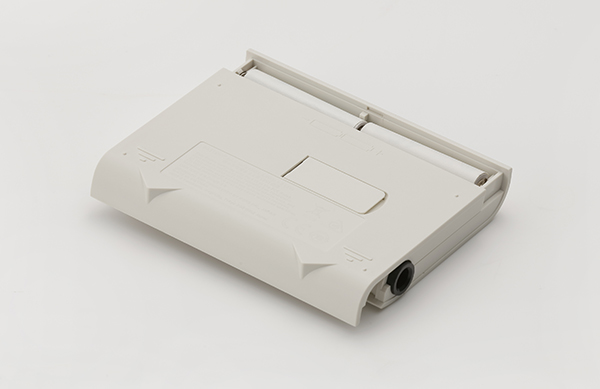 SPECIFICATIONS
Scale: 12 note equal temperament
Detection Range (Sine wave): A0 (27.5Hz)–C8 (4186Hz)
Reference Tone: C4 (261.63Hz)–C5 (523.25Hz) One octave
Tuning Modes: Meter mode, Sound Out mode
Calibration Range: A4 = 410Hz–480Hz (1Hz steps)
Detection Accuracy: +/- 1 cent
Sound Accuracy: +/- 1.5 cent
Connectors: INPUT jack (1/4" monaural phone jack), OUTPUT jack (1/4" monaural phone jack)
Internal Speaker: Dynamic Speaker (φ21mm)
Power Supply: AAA battery (3.0 V) x 2
Battery Life: Approximately 135 hours (zinc-carbon batteries, Meter mode, A4 continuous input)
Dimensions (W x D x H): 100 mm x 67 mm x 17 mm / 3.94" x 2.64" x 0.67"
Weight: 81 g / 2.86 oz. (including batteries)
Included Items: Two AAA batteries for verifying operation
Accessories (sold separately): CM-200 Contact Microphone