Sterling RAY35PB StingRay5 Bass
SKU: 046-02009-TRB  
กีต้าร์เบส Sterling by Music Man StingRay "Ray35" PB ที่งดงามเป็นเอกลักษณ์และไม่เหมือนใคร กับลำตัวเบสที่ทำจากไม้มะฮอกกานีปะหน้าด้วยไม้ Poplar Burl มาพร้อมกับคอเบสที่ทำจากไม้เมเปิ้ลที่ผ่านการอบ (Roasted Maple Neck) ปรีแอมป์แบบใช้แบบเตอรี่ 3 ย่านความถึ่ (3-band active preamp) รูปทรงของลำตัวเบสที่โค้งมน (contoured body) และสะพานสายที่มีต้นแบบมาจากเบสไฟฟ้ารุ่นพี่อย่าง Ernie Ball Music Man StingRay มีให้เลือกในสีดำ (Trans Black Satin)
STINGRAY RAY35PB
The Sterling by Music Man StingRay5 "Ray35" features an all-new roasted maple neck, a 3-band active preamp, a modern contoured body and a bridge modeled after the iconic Ernie Ball Music Man StingRay. Available in Trans Black Satin.
ICONIC STINGRAY TONE
The StingRay Ray35HH features 2 alnico humbuckers with a 5-way switch and 3-band active preamp – delivering the signature big, bold sound with a wider tonal range.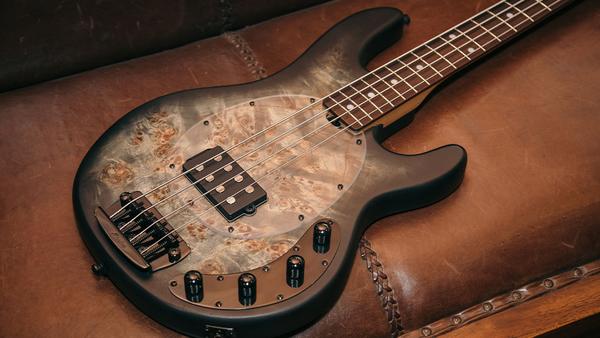 ROASTED MAPLE NECK
Designed for a super smooth feel, the StingRay features a roasted maple neck with 2 fingerboard options – roasted maple and rosewood.
SPECIFICATIONS
Model: RAY35PB

Body Wood: Mahogany - Poplar Burl Veneer Top
Body Color: Trans Black Satin (TBKS)
Bridge: Sterling by Music Man Designed Bridge
Pickguard: Black
Scale Length: 34" (86.4cm)
Neck Radius: 9.5" (24cm)
Frets: 22 Frets, Medium
Neck Width: 1.77"(45mm) at Nut
Neck Wood: Roasted Hard Maple
Fingerboard: Rosewood
Fret Markers: White Dot Markers
Tuning Machines: Open Gear
Truss Rod: Single Action
Neck Attachment: 6 Bolts
Controls: 3-band Active Preamp
Switching: 3-way Toggle Pickup Selector
Pickups: H - 1 Alnico Humbucker
Strings: Ernie Ball 2836 Super Slinky
Gig Bag: Deluxe Sterling by Music Man Bag