TC Electronic Quintessence Harmony
SKU: TE-960827001 
Exceptional Dual-Voiced Intelligent Harmonizer with Groundbreaking MASH Footswitch
Exceptional dual-voiced intelligent harmony pedal with innovative pressure-sensitive footswitch

Groundbreaking MASH technology turns footswitch into a pressure-responsive expression controller

MASH footswitch lets you easily pitch-bend harmonized notes up to the next interval

Choose between latching and momentary footswitch modes for perfect integration with your playing style

TonePrint-enabled to let you beam cool signature tones into your pedal with the free TonePrint App

Design your own harmonized interval effects from scratch with free TonePrint Editor for PC, Mac* and iPad*

Simple, easy-to-use controls let you focus on playing

Compact footprint fits on any pedal board

True bypass allows for optimum clarity and zero high-end loss when the pedal is off

Works flawlessly with guitar and FX loop signals

Optional buffered bypass mode prevents high frequency loss from long cable runs

Analog-Dry-Through maintains total integrity of analog dry signal path even when effect is engaged

3-Year Warranty Program*

Designed and engineered in Denmark

QUINTESSENCE HARMONY
QUINTESSENCE HARMONY is a state-of-the-art intelligent harmonizer pedal that features expressive MASH technology and powerful TonePrint editing. Capable of beefing up your playing in any musical style from country or southern rock harmonies to Thin Lizzy-esque twin riffs and screaming metal leads, QUINTESSENCE follows your every whim with perfectly harmonized notes in a wide variety of modes and scales. With MASH, QUINTESSENCE can bend the harmonized notes without you moving a finger, momentarily harmonize just a few bars or notes and with our proprietary TonePrint technology you can even choose exotic scales and custom intervals for harmonies. Complex as it may sound, QUINTESSENCE sounds simply stunning – and its intuitive and straightforward design makes it easy to use.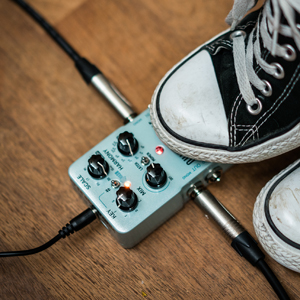 MASH up an Interval
QUINTESSENCE features a MASH footswitch giving you a powerful expressive tool without taking up any extra pedalboard real estate. By default the MASH switch has been assigned to bend your harmonized note up to the next interval within the scale but in TonePrint mode, you can assign MASH to control just about any aspect of the pedal including custom scale steps - both above and below the original harmony. This not only makes the QUINTESSENCE much more versatile as you can switch between two different intervals mid-song without having to fiddle with knobs, but it also lets you do fluid pedal steel bends worthy of the greasiest Nashville honky-tonks out there.
Footswitch Flexibility
QUINTESSENCE quickly and easily lets you toggle between standard latch mode and momentary mode for spontaneously improvised harmonizing on the spot. This is useful when you need a little extra something in the last bar of your solo for dramatic effect or for riffs where you want an emphasis on a certain note or beat. If the boys are back in town and you know you're going to be playing long harmonized riffs and want to move around the stage a bit, set QUINTESSENCE to latch mode and run to the hills! And don't worry – MASH works in either setting.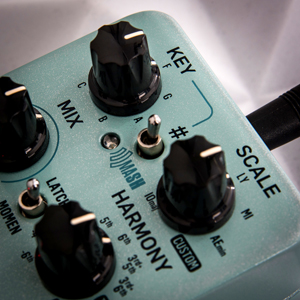 Customize Your Harmony
If you don't feel like using one of the seven preset diatonic modes commonly used, the Custom scale mode lets you load in whichever flavor of tonality you want your harmonies to follow. When QUINTESSENCE is not in TonePrint mode the Custom mode is set for Locrian. Using the 3 TonePrint slots however, you can set it to a wealth of different custom scales. Feeling major pentatonic or harmonic minor today? Have at it, Hoss!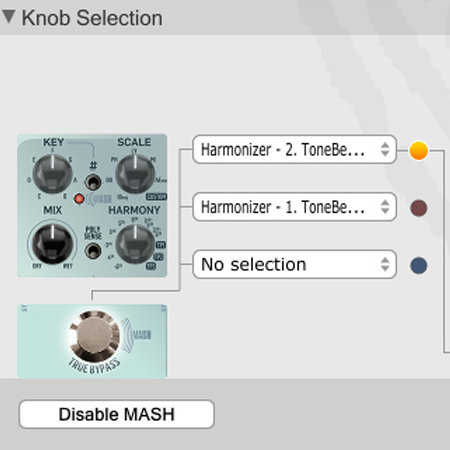 Triple TonePrint Treasures
The TonePrint platform allows you to customize your own harmonies with one or two extra voices on top of your dry signal in any way you want. Of course, you get 3 TonePrint slots to get you safely through your set list. The free TonePrint editor gives you access to a wealth of tweakable parameters to get you exactly the harmonies you want. Instead of spending your time trying to find your own Dickey Betts or Marty Friedman for your band – QUINTESSENCE has your back and is always in tune.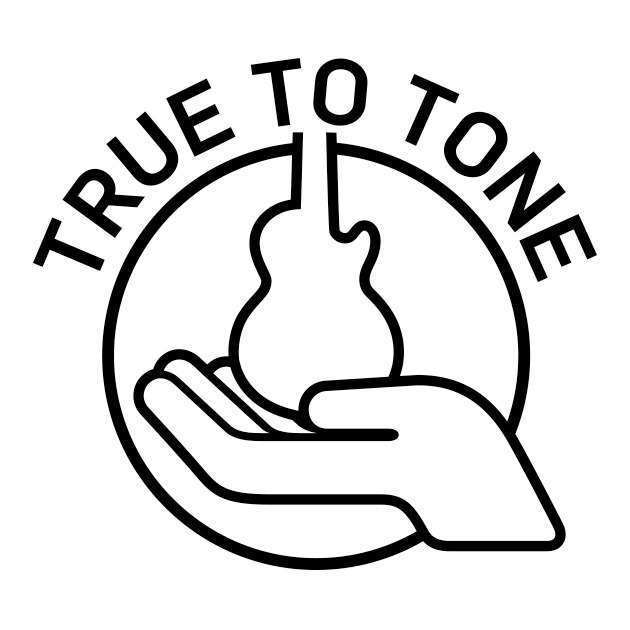 True to Tone
You love tone, so do we, and our design philosophy testifies to that. So whatever route you wanna go, we got your back.
With optimized headroom, True Bypass or Buffered Bypass switch and Kill-Dry on/off, this pedal guarantees optimal tonal integrity and zero loss of tone. And, no matter if the pedal is on or off your precious dry sound is always passed through the pedal unharmed in all it's pure analog glory due to an Analog-Dry-Through.
The Artist Entrance
TonePrint means signature effects - and signature effects means truly creative tones. From classic innovators to the guys shaping the future of music, we've asked the coolest artists around to come up with their customized signature version of a TC Electronic effect - and make them available to you for free!
Beam!
Download the free TonePrint app for Android and iPhone, choose the TonePrint you want to hear and beam it instantly from your phone through your guitar's pickup into your TonePrint pedal. No cables needed!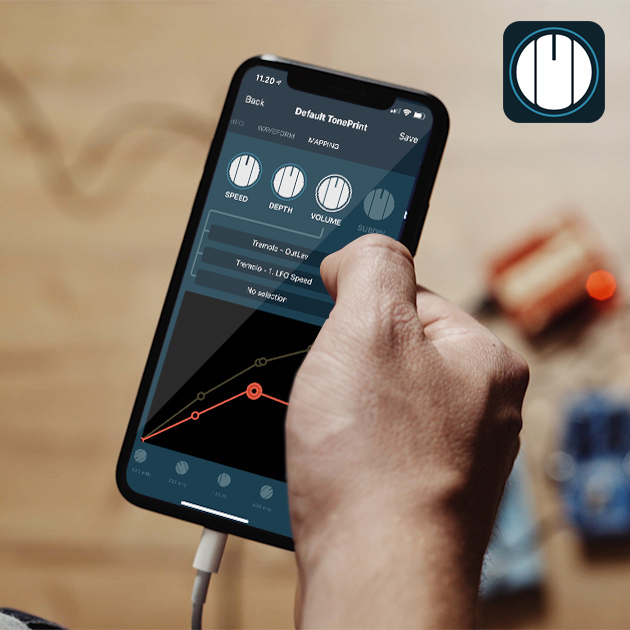 Your Vision, Your Sound!
Music is the truest expression of self. That's why it is your right to have your effect sound the way YOU want to, no holds barred.
With the TonePrint Editor, you get full control over all effect behavior, knob ranges and everything in between so you can create your signature TC sound.