Blackstar HT Stage 60 212 MK III
SKU: BS-BA202005
The HT Stage 60 212 MK III guitar amp's selected duet of EL34s deliver 60W of glorious valve power through two high quality Celestion speakers, making for a combo that will deliver every night, even in the most testing live environment. The 'boutique' style clean channel is extremely versatile with two modes – 'British Class-A' and 'dynamic US'. Each of the two ISF equipped overdrive channels allows a further two modes. The Power Reduction feature allows further flexibility, by allowing the guitarist to attenuate to 10 percent of the 60 watts of power also making the HT Stage 60 MK III perfect for the home and studio use.
Features
Innovative 60 Watt valve combo

2 x ECC83 and 2 x EL34 valves

Three footswitchable channels

Six footswitchable voices

Boutique clean channel with expanded tone controls

Two high gain overdrive channels

Patented Infinite Shape Feature (ISF)

Power Reduction down to 10 percent of full Wattage

Presence, Resonance, Master Volume

Digital Reverb with Dark/Light switch

Speaker Emulated output with 1×12/4×12 voicing

Effects loop with effects level switch

USB for recording

2×12" Celestion speakers

Footcontroller included

Compact size for ultimate portability

Cool boutique styling
Our multi-award winning valve line raises the benchmark again

Boutique Cleans and Modern Overdrives
HT Venue is renowned for combining class-leading boutique cleans with modern high gain overdrives without compromise.
The Clean channel, though simple in appearance, offers vast versatility in producing classic clean and crunch tones. Both Voices utilise an ECC83 / 12AX7 valve exclusively for producing any valve compression or crunch.
The Overdrive channels have evolved from the original Series One range. The topology shares the same basic building blocks in the gain structure and tonal shaping and includes the cascaded gain stages of an ECC83 / 12AX7 double triode valve.
Two distinct Voices on each channel
Each Voice is far more than a minor tweak to the sound. With HT Venue MK III, each Voice switch introduces comprehensive circuit alterations in both preamp and power amp to recreate authentic reference tones without compromise. This includes EQ voicing, tone stack position in the circuit, the gain, and power amp damping. Achieve diverse tonal options with the flick of a single switch!
CabRig™ DSP speaker simulator technology
CabRig™, our class-leading DSP speaker simulator comes as standard, offering hundreds of different cabinet, mic, and room settings. Save your favourites to three presets for easy access directly from the amplifier. Switch into standby for 'silent' recording or silent stage use. The USB-C port lets you send 4 channels (clean/dry, preamp out, stereo emulated out) to your DAW, ensuring the easiest way to capture authentic
What's in a Venue?
Until HT Venue, guitarists had to choose between an amp that delivered great clean tones, or great overdrives. Our mission for HT Venue was to use what we learned when designing the Artisan handwired boutique amps and the modern high gain Series One and combine the best clean and overdrives into a single valve amp; a valve amp that would give players classic reference tones in one unit – without compromise.
Incorporating everything we've learned since the original in 2010, the new MK III refines the tones, the components and even the look. To match the way you play today we've brought modern recording and connectivity to a traditional valve amp, including CabRig, our class-leading DSP speaker simulator software, plus a suite of connectivity options: USB-C, XLR D.I. and of course ¼" jack.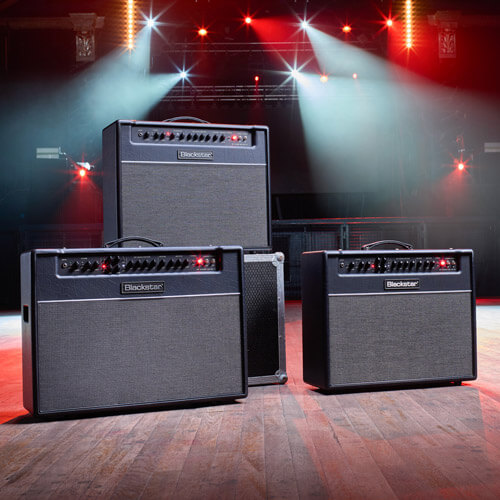 NEW CabRig™ simulator technology
CabRig™ is our advanced DSP speaker simulator, delivering mic'd up guitar cab sounds with unparalleled detail. With zero latency and superior flexibility over IR snapshots, CabRig™ perfectly simulates cabinets and rooms. Dive into its software for exceptional tones via USB/XLR or headphones.
Pro Features
Blackstar's patented ISF (Infinite Shape Feature) control shifts the response of the three control tone stack between, a US type response at one end, and at the other, a UK type response. Importantly, in between the two extremes lie an infinite number of alternative tone choices that would be otherwise unavailable.
MK III also has an all-new reverb voiced for guitar tones. Switch between 'Dark' room and 'Light' plate settings and deep-edit other parameters via our free Architect software.
Ideal for modern musicians, the MK III has all the connectivity you need, effects loop, USB-C audio for professional recording and an XLR D.I. for live performances.