Sterling James Valentine Chambered Bigsby
SKU: 046-01046-BSC
คอลเล็กชั่นของเจมส์ วาเลนไทน์เป็นที่รู้จักกันดีในการผสมผสานคุณสมบัติของกีตาร์อันเป็นเอกลักษณ์ที่ดีที่สุดไว้ด้วยกัน และในการปรับแต่งล่าสุดในรุ่นดั้งเดิมก็ไม่ต่างกัน กีตาร์ เจมส์ วาเลนไทน์ในปี 2023 ยังคงไว้ซึ่งคุณสมบัติดั้งเดิมอันโดดเด่น — ลำตัวกีตาร์ที่ทำจากไม้ White Ash ในแบบ Slab, วงจรบูสต์เสียง 12dB ที่สามารถกด/ดึงได้, คอที่ทำจากไม้เมเปิ้ลซึ่งผ่านการอบและลูกบิดกีตาร์แบบล็อคสาย — พร้อมยกระดับและความคิดสร้างสรรค์ โดยเสริมเพิ่มช่องกลวง (chamber) ทางด้านในลำตัวกีตาร์ และสะพานสาย Tune-o-matic พร้อมด้วยคันโยก Bigsby B50 เพื่อโทนเสียงที่แตกต่าง โดยมีมาในสี Butterscotch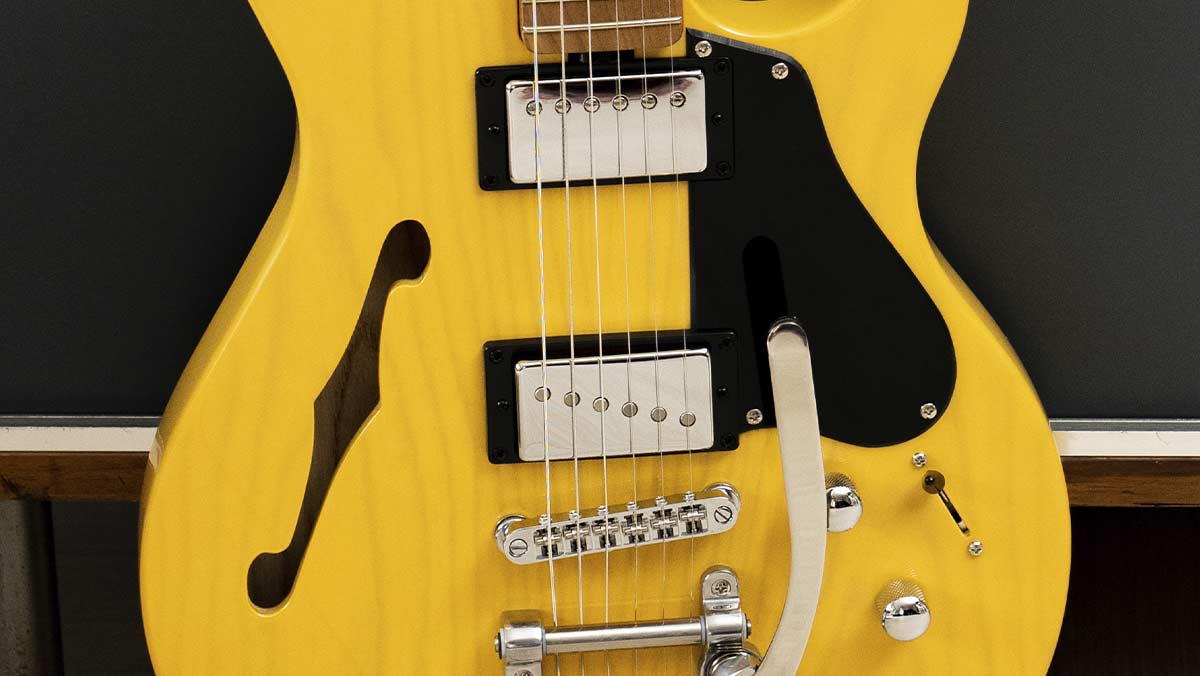 CHAMBERED CONSTRUCTION
Designed in collaboration with Grammy-winning guitarist James Valentine, the 2023 model features a chambered construction and an f-hole for enhanced resonance, comfortable playability, and classic flair.
BIGSBY TAILPIECE
Beloved for its smooth operation and vintage aesthetic, the iconic Bigsby B50 tailpiece creates a subtle, yet expressive, vibrato that adds even more texture to your sound.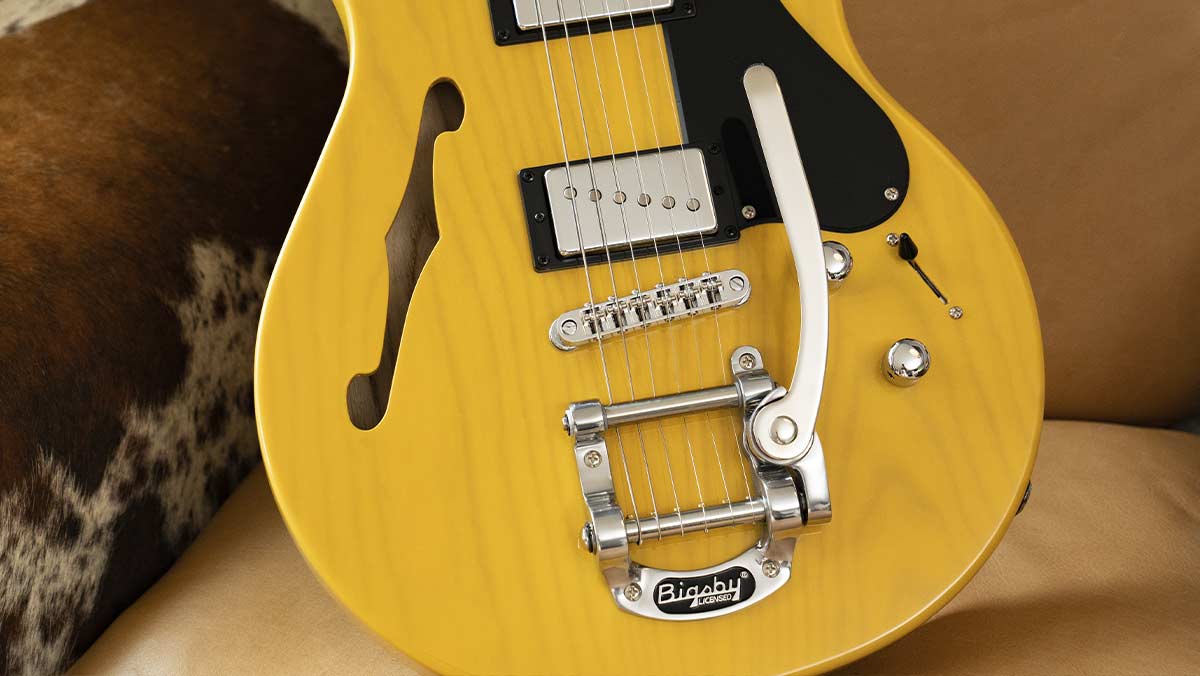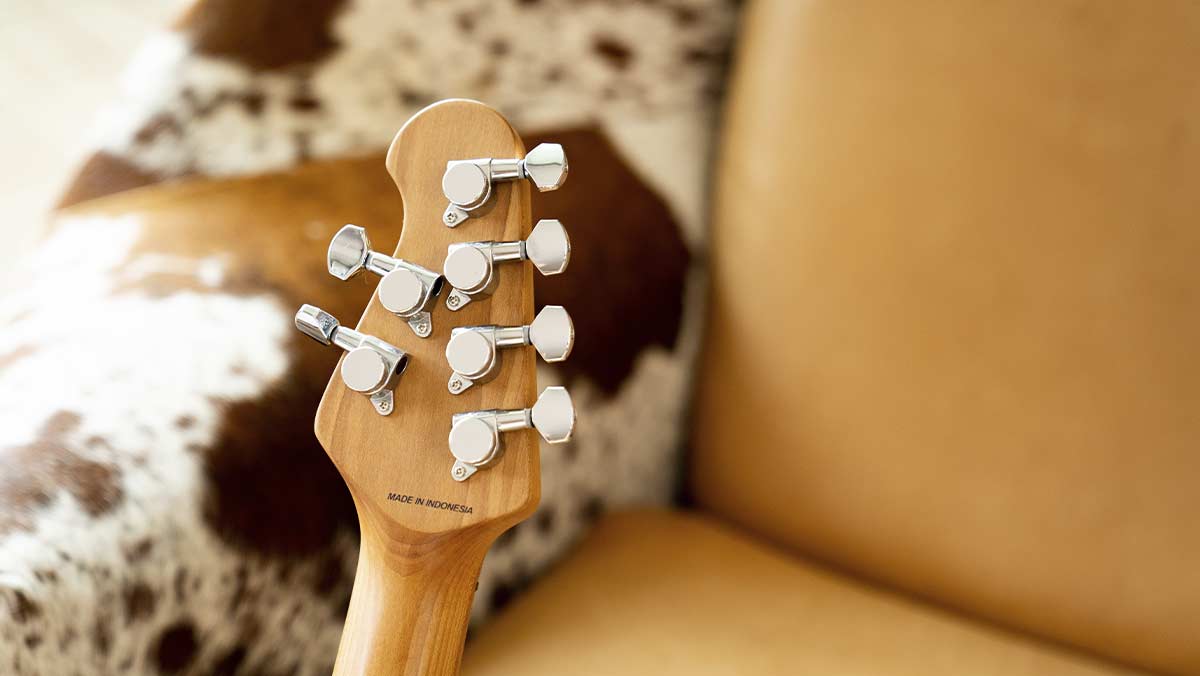 ROASTED MAPLE NECK & LOCKING TUNERS
Featuring a roasted maple neck and fretboard with locking tuners, the Valentine offers a versatile performance with maximum tuning stability.
SPECS
| | |
| --- | --- |
| Model | JV60CB |
| Body Wood | White Ash |
| Body Color | Butterscotch (BSC) |
| Bridge | Tune-o-matic Bridge with Bigsby Tailpiece |
| Pickguard | Black |
| Scale Length | 25.5" (64.8cm) |
| Neck Radius | 12" (30.5cm) |
| Frets | 22 Frets, Narrow |
| Neck Width | 1.65" (42mm) at Nut, 2.20" (56mm) at Last Fret |
| Neck Wood | Roasted Maple |
| Fingerboard | Roasted Maple |
| Fret Markers | Black Dot Markers |
| Tuning Machines | Locking |
| Truss Rod | Dual Action |
| Neck Attachment | 5 Bolt Pattern |
| Controls | 1 Push/Push Volume Boost, 1 Tone |
| Switching | 3-way Toggle Pickup Selector |
| Pickups | SH |
| Strings | Ernie Ball 2221 Regular Slinky |
| Gig Bag | Deluxe Sterling by Music Man Bag |