TC Electronic Combo Deluxe 65' Preamp
SKU: TE-M01013
Twin-Channel Guitar Preamp Faithfully Recreates the Sound of a 1965 Blackface Reverb Deluxe Tube Amp in a Pedal with Independent Channel Controls, Built-in Spring Reverb, Optional Cab Sim and Dedicated Outputs for DI and Headphones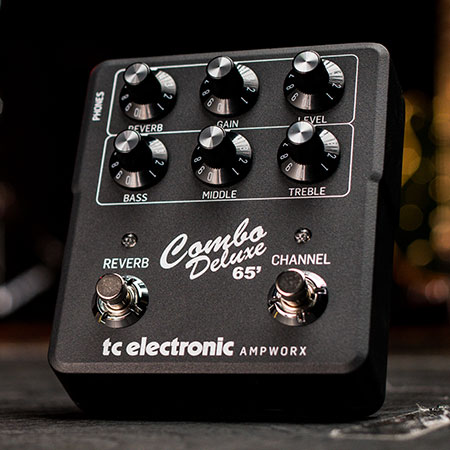 As Classic As It Get
This original tube amp with legendary reverb ranks among the world's most sought-after vintage combos and is likely one of the most recorded amps in music history – for good reason. It sounds amazing!
But it's rare, and if you find one it likely comes with a price tag to match. However, there are other ways for you to get your hands – and feet – on this iconic guitar tone:
Enter COMBO DELUXE 65'!

As Precise As It Gets
Our passionate and guitar-playing team of engineers set out to faithfully recreate the original amp with the painstaking accuracy and attention to detail that only guitar players with actual hands-on experience with the original amp can achieve.
At the heart of COMBO DELUXE 65', our AMPWORX modeling technology works its magic, carefully recreating the classic guitar tone that's the sum of each and every component from the circuit of the original.
The result? The best and most precise digital amp modeling of this famous amp you have ever run your guitar through.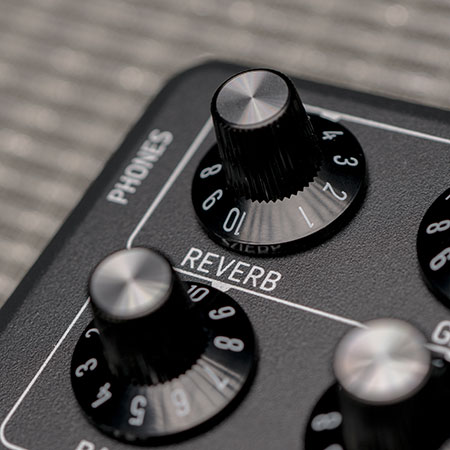 Reverb Revelation
When released in 1965, the original amp featured a dual-spring GIBBS tank embedded in a tube-based transformer circuit for generating the reverb sound we all know and love.
To nail that sound, we took the very same original GIBBS unit and extracted a high-resolution 4-second impulse response, using a zero-latency convolution engine combined with detailed circuit modeling - we faithfully recreated that sweet, original reverb.
In addition, we added a Reverb 'tone control', (which was not on the original amp), in case you want to tailor it for your style of playing. If you just want nothing but the original tone, just leave at 12 'o' clock and you're good to go!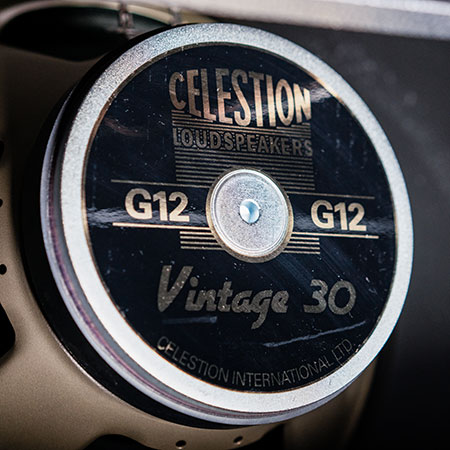 The Cab Ride of Your Dreams
Obviously, the cab speaker is a key component of any combo – COMBO DELUXE 65' is no exception!
With today's convolution-based IR technology it's possible to sample the past with great accuracy and authenticity. And we might have done exactly that, only someone else has specialized in this sonic art form – and who would be better at this than the company that has delivered cab speakers for countless classic guitar combos throughout music history: Celestion.
After intensive testing, we decided to integrate the official impulse response of the beloved Creamback speaker. It truly is a tone match made in heaven.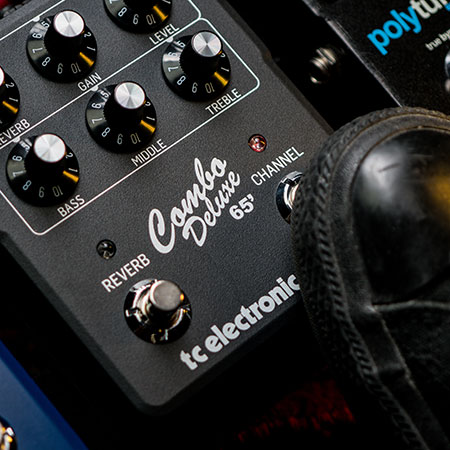 Ch-ch-ch-channels
When you plug into COMBO DELUXE 65' for the first time, it's in the always-on Dual Channel mode. This means you toggle between a green and a red channel. The green channel is the normal clean channel and red has more gain and a slightly different voicing.
If you press REVERB and CHANNEL at the same time, you will change to Bypass mode. Now, COMBO DELUXE 65 simply works as a stompbox that you can punch in and out whenever you want. The channel that was selected when in Dual Channel mode is the one that's used if you switch to Bypass mode.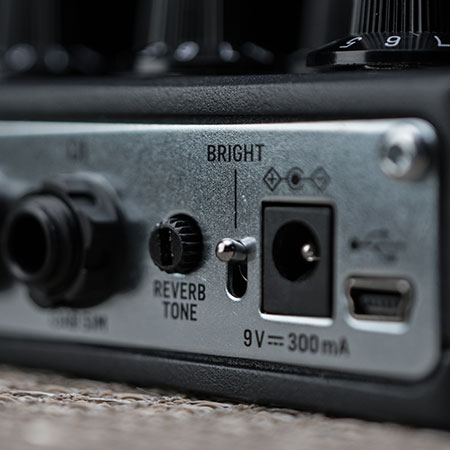 Always Look on the Bright Side of Life
Depending on your guitar, pedals, playing style, band configuration and much more, you may sometimes need that 'little extra something' to really cut through the mix.
On COMBO DELUXE 65', this translates into a dedicated BRIGHT switch that will give a sonic edge when you need it the most.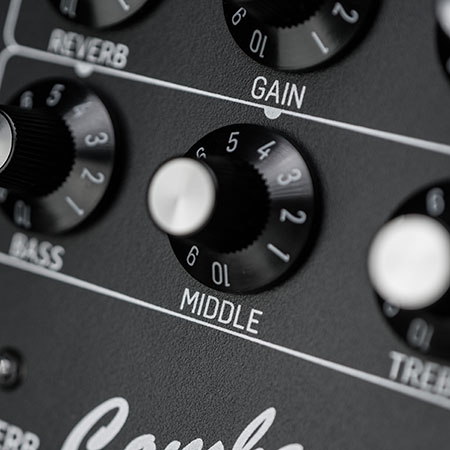 In The Middle of Nowhere
Nowhere was a MIDDLE knob to be found on the original amp in 1965. And if you prefer it just like that then simply leave it, well, in the middle.
But upon the launch of the original amp, many users requested a mid-control, and in later revisions, a middle knob was actually added.
We decided to give you the option to choose whether you want to sculpt the mids or not.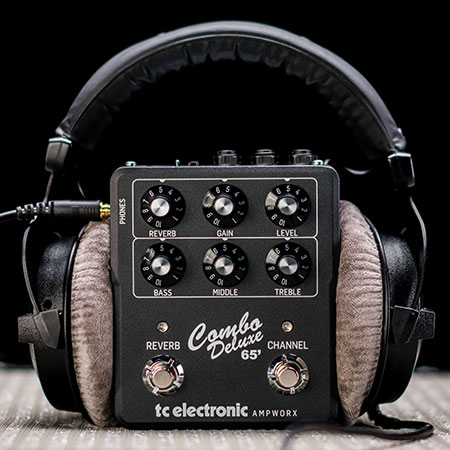 Three Ways Out
Your guitar signal can exit COMBO DELUXE 65' in three different ways. The DI output includes the cab sim and is ideal if you go directly to a PA system, or if you record through an audio interface.
The OUT jack does not include the cab sim, which is useful for when you go to a combo or an amp with a cab, or when inserting the pedal in the FX Loop on an amplifier.
Finally, the HEADPHONES jack includes the cab sim to give you the perfect silent rehearsal scenario.
SPECS
Connectors
| | |
| --- | --- |
| Input | 1 x ¼" TS, unbalanced |
| Input impedance | >1 MΩ |
| Output | 1 x ¼" TRS, balanced with ground sensing* |
| Direct out (cab sim) | 1 x ¼" TRS, balanced with ground sensing* |
| Output impedance | 1 kΩ |
| Headphones | 1 x 1/8" TRS, stereo* |
| Headphones impedance range | >32 Ω |
| USB port | Mini-B USB connector |
Controls
Front panel

REVERB, GAIN, LEVEL,
BASS, MIDDLE, TREBLE

Top panel

BRIGHT switch, REVERB TONE

Footswitches

REVERB, CHANNEL (bypass)
System
Reverb

Convolution, 4 s, IR extracted from an original 1965 amp's reverb tank

Speaker and cab emulation impulse response

Celestion G12M Creamback,
1 x 12" open back cabinet

Bypass

Buffered bypass
*Standard, unbalanced TS (mono) cables will work with these connections, but for longer cable runs or when interfacing with balanced equipment like soundcards, mixers, and so on, balanced TRS cables will give much better noise suppression.